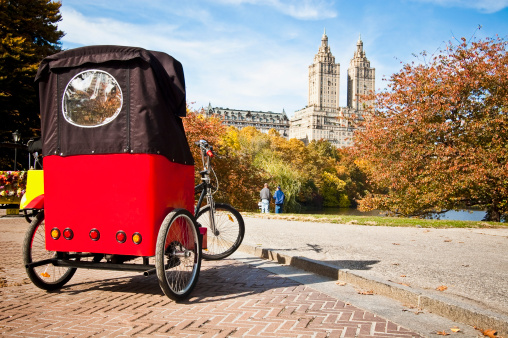 The city's only female pedicab driver, Helen David, 35, has opened up about the near-constant harassment she faces from her peers. Specifically, she says a group of pedicab drivers from Mali and Senegal have routinely shouted insults at her in Columbus Circle.
"I am being targeted because I am a woman," Ms. David told the New York Post. "They are telling me it's a sin for me to be riding a pedicab. In their country, women are not allowed to be out."
The Brooklyn native was attacked last weekend at Central Park South and Columbus Circle; a driver kicked her chest and hit her arm as she blocked him. She has filed a report in attempts of obtaining a restraining order.
Tourists are often drawn to Ms. David, as her English is not only better than other drivers but she is also quite knowledgable in Central Park history. But the torment is costing Ms. David her business. "I'll talk to a customer, and they surround me," she told the Post. "They curse the customer out for going to me when they offer discounts."
The bullies have gone as far as spitting at her in the park. "I will have customers, and a guy will spit right there in front." 
Police are investigating, but Ms. David hopes the city will require pedicab drivers to secure a US drivers license rather than allowing foreign licenses to suffice. San Francisco, Denver and Austin–among other cities–require valid licenses from the state in which pedicab drivers work in.