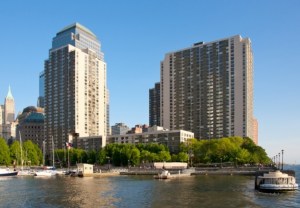 Brrrr, frostbite temperatures.
Residents at the Gateway Plaza in Battery Park City filed a $100 million class-action lawsuit against the building's landlords and developers—developer LeFrak Organization and landlord Battery Park City Authority—claiming that the rental complex they live in is poorly built and has temperatures so cold that frost collects on the walls of their apartments, according to the New York Daily News.
"Gateway is a poster child of uninhabitability. The units are poorly constructed, inadequately insulated and riddled with defects in the heating and ventilation system… faulty, leaky windows force tenants to regularly scrape ice from the interior of their windows," the lawsuit alleges.
Residents at the plaza are disgruntled that they have to pay their landlord extra for the electricity that heats up their apartments—shelling out more cash for electric space heaters that help them survive the harbor's gusting cold winds, according to the suit.
"The windows make the building into a conductor for the cold in winter weather. Ice forms on the windows and when it melts, it seeps into the walls and damages the apartment," attorney Jeremy Heisler told the News. "Construction was very bad and there is no insulation."
But a spokesman for the Gateway Plaza Management, said tenants are responsible for providing their own heat—an unusual situation in New York, but one that would seem to be neither here nor there in regards to the lawsuit, which takes issue with the building's construction.
"The property is eminently habitable and many residents enjoy long tenure at Gateway; some have even lived at the property continuously since its opening in 1986,"  he told the News.