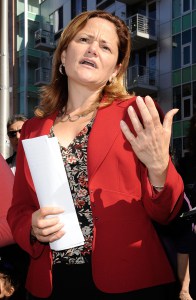 The City Council has hired a former Bloomberg administration staffer to be its next general counsel, according to a letter sent this afternoon announcing the appointment to council members and obtained by the Observer.
Kathleen Ahn, who most recently served as general counsel at the city's Department of Small Business Services, will be the council's new chief lawyer, making sure new legislation passes muster and overseeing any litigation with other offices. She previously worked as a special assistant to former President Bill Clinton at the White House, deputy chief of staff to then-Senator Joe Biden, at the College Board and for Con Ed.
She is replacing Jeff Metzler, a veteran council staffer.
"Kathleen is a seasoned attorney who brings more than two decades of experience in the public and private sectors to our work here at the City Council," Council Speaker Melissa Mark-Viverito said in the letter, sent to council staff and members.
"We are very excited to have Kathleen onboard serving in this capacity, and I am confident that her extensive legal and professional background will be of great service as we continue working and fighting on behalf of all New Yorkers," she added.
A spokesman for the speaker's office declined to comment on the hire. Ms. Ahn did not immediately respond to a request for comment.
With reporting by Colin Campbell.