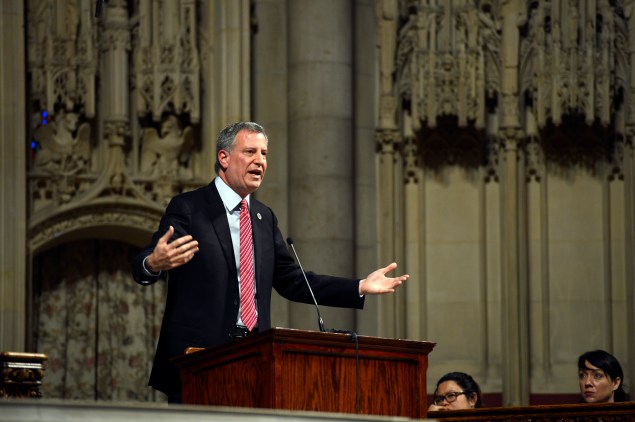 Nearly two dozen City Council members are calling on Mayor Bill de Blasio to dramatically shift the city's current affordable housing model ahead of a major speech he's expected to deliver later this week outlining his plan to create and preserve 200,000 units of affordable housing over the next decade.
Twenty three members have signed onto a letter, which was sent earlier this morning, endorsing a model that would provide 50 percent market rate and 50 percent affordable housing in new housing developments—a far higher rate than the 80 percent market rate and 20 percent affordable model that is currently typical in the city.
"As you finalize your affordable housing plan for May 1, we urge you to prioritize the needs of low-income and moderate-income households who are struggling to pay their rent every month," reads the letter, obtained by the Observer, which includes the signatures of Bronx Councilman Ritchie Torres, the chair of the public housing committee, and Brooklyn's Jumaane Williams, who chairs the council's committee on housing and buildings.
"Replacing the ineffective 80/20 model with one that maintains a higher percentage of affordable units, like the 50/50 model, would create and sustain a much greater quantity of real affordable housing for low-income and moderate-income households," they added. "It's a smart, progressive reform that will give city taxpayers a better return on their investment in affordable housing while still enabling developers to reap profits and trade unions to access good jobs."
The letter, which marks the first coordinated effort by council members to influence the mayor's plan, comes following a recent study by the liberal group Real Affordability for All, which found that the previous administration's affordable housing plan failed to include 700,000 low-income families making $41,000 a year or less. A source said that leaders from the RAFA campaign have been meeting with council members and top de Blasio administration officials in recent days, advocating for the 50/50 model.
The model has been dismissed as unworkable by some in the real estate community.
Mr. de Blasio gave himself a May 1 deadline to unveil his plan to build or preserve 200,000 affordable housing units over the next decade, which is expected to include significant allowances for taller and bulkier buildings in exchange for more affordable units.
Wiley Norvell, a spokesman for the mayor, responded to the letter saying, "We share the Council's belief that truly affordable housing needs to serve a broad range of incomes—including the very lowest."
Updated at 11:32 a.m. with comment from the mayor's office.
Read the full letter here:
[protected-iframe id="cfd93fb1604477894a32a03275ec7663-35584880-49119065″ info="//www.scribd.com/embeds/220941676/content?start_page=1&view_mode=scroll&show_recommendations=true" width="100%" height="600″ frameborder="0″ scrolling="no"]