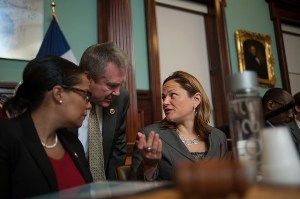 The City Council's Progressive Caucus, the left-leaning coalition that sparked the liberal shift of the council this year, has elected new leadership.
Councilmen Donovan Richards and Antonio Reynoso have been elected co-chairs of the caucus, replacing Melissa Mark-Viverito, who is now speaker of the body, and Councilman Brad Lander, now a deputy leader of the council. The two councilmen beat out Councilman Ydanis Rodriguez in a vote taken last week, according to caucus spokeswoman Mary Tek.
The caucus also named freshmen lawmakers Ben Kallos and Helen Rosenthal as vice chairs for policy and budget advocacy respectively. Councilwoman Margaret Chin was elected treasurer and will manage a fund that pays Ms. Tek's salary. (Caucus members pay dues.)
While the significance of the caucus in elevating Ms. Mark-Viverito to the speakership is now recognized, council observers wonder what role the group will now play in a body that is already overwhelmingly left-wing.
"What exactly is the point of having a Progressive Caucus if the entire body is leaning that way? Do you really need a Progressive Caucus if the speaker herself is progressive and a member of said caucus?" one council source asked. "It sounds like some members need to get together and form a moderate caucus."
Founded in 2010 by Ms. Mark-Viverito and Mr. Lander, the caucus was originally a small minority of the 51-member body. But with the election of about two dozen new members, many of whom pledged to join the caucus, its rank have grown.
Ms. Mark-Viverito and Mr. Lander gave up their posts because of their greater leadership roles in the council, sources said.
The caucus will announce its updated member list later this month.