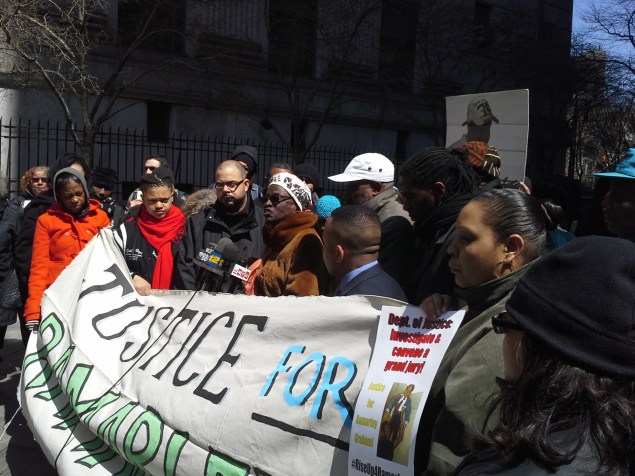 She's going straight to the White House.
Councilwoman Inez Barron today called on President Barack Obama to spearhead a Department of Justice investigation into the death of Ramarley Graham, a Bronx teen killed by a police officer in 2012.
"This society is riddled with racists. Racist behavior and racist policy. We have got to demand an end and we've got to take the actions that we need to bring an end to police officers killing innocent black youth," Ms. Barron said at a rally for Mr. Graham in Manhattan today.
"I'm calling on President Barack Obama–President Barack Obama, a black man who identifies as black, who is the head of this nation and has all kinds of executive powers–to demand that the DOJ open an investigation today," she continued. "I'm demanding that he do that."
Ms. Barron and other elected officials, including Assemblyman Karim Camara, State Senator Ruth Hassell-Thompson, Councilmen Andy King and Jumaane Williams, have long demanded the DOJ investigate Mr. Graham's death. The 18-year-old was shot and killed by the NYPD in his home after an officer heard Mr. Graham was carrying a gun. It turned out he only possessed a bag of a marijuana.
A grand jury later failed to indict the police officer, Richard Haste, angering elected officials and activists who believed the shooting was racially-motivated. U.S. Attorney Preet Bharara's office said last summer that he was reviewing the case, but for Ms. Barron and other elected officials gathered today, that was not enough.
"Something needs to be done soon. This is the case, this is the one. If there ever was a case, we gotta win this one," Mr. Williams argued. "How the hell we gonna win the other ones if we can't win this one?"
The White House did not immediately respond to a request for comment.