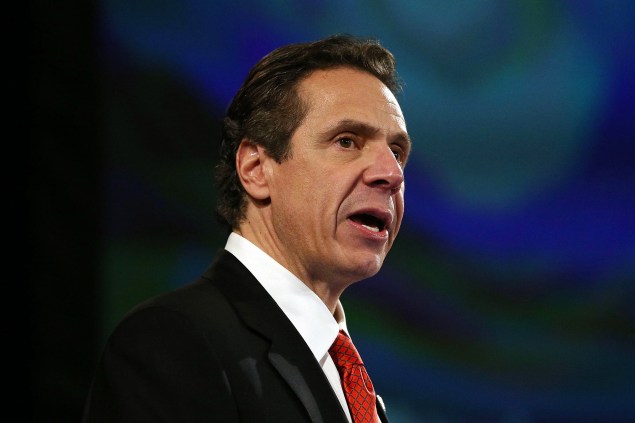 Supporters of Gov. Andrew Cuomo participated in a conference call with state committee members of the left-leaning Working Families Party last night, trying to sell members on why they should back the governor's re-election bid, according to multiple sources briefed on and present on the call.
Assemblyman Keith Wright, a leader in the state Democratic Party, and Kevin Finnegan,·the political director of 1199 SEIU, the powerful healthcare workers' union, spoke to about 100 members of the WFP state committee, stressing what they painted as Mr. Cuomo's lengthy progressive record. Among those initiatives cited: the governor's work securing money for pre-K across the state, as well as the passage of gay marriage and an increase to the minimum wage.
The pair also urged WFP members to consider what would best help drive their agenda, including the benefits of having a seat at the table over the next four years.
"We were definitely urging them to endorse the governor, there's no question about that," Mr. Finnegan, one of the founders of the WFP and a member of its executive committee, told the Observer this morning. In addition to stressing the governor's more progressive accomplishments, he said he also touted work Mr. Cuomo has done on behalf of his members. "He's been very good particularly to the home care workers of 1199 and I wanted to make sure people knew about that," he said.
While the party endorsed Mr. Cuomo in 2010, members have been growing increasingly frustrated by what many see as his shift to the right, including a recent budget agreement that stressed tax cuts over more progressive agenda items, and a campaign finance reform deal that many see as watered down. Members have reportedly urged the party to look for alternate candidates, which could pull lefty votes away from the Democratic incumbent.
A Siena College poll found last week found that, while Mr. Cuomo would beat his Republican challenger Rob Astorino by 30 points in a head-to-head race, he would lead by only 15 points in a three-way race if a liberal WFP candidate were to mount a bid. Mr. Cuomo has been working "surreptitiously" behind the scenes "in an all-out effort to avert the possibility of a challenge, or to limit the damage if it happens," according to Capital New York.
On the other hand, in order to maintain ballot status the party needs 50,000 votes in the governor's race and backing an established figure like Mr. Cuomo could be an easier path to achieve that goal.
Mr. Finnegan argued that the WFP was founded with the goal of pushing the Democratic party to the left, and said he hoped fellow members would maintain that objective by backing the governor. "We should all come together and back one ticket," he said.
But he left the call, which included questions from many critics, sounding less than assured. "I'm not optimistic at this moment," he said, "but we have a month more of conversations to have."
The WFP calls have become a frequent occurrence in recent weeks, according to labor sources. A spokesman for the party confirmed "a routine call" last night with state committee members, but declined to provide additional details.
Updated at 1:18 p.m. with comment from Mr. Finnegan.