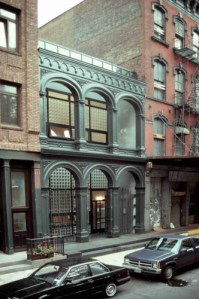 The owner of a restored cast iron building at 172 Duane Street is trying to super-size the lovely little building once again—reviving a 2008 bid to add a four-story addition atop the diminutive 19th-century structure that was once approved, in modified form, by the Landmarks Preservation Commission.
Applications filed with the Department of Buildings and Landmarks—the structure is in the Tribeca West Historic District—describe the addition as a "four story vertical addition of two-family dwelling to existing two-story commercial structure" with residential egress in the front of the squat building, where hip-hop impresario Damon Dash briefly ran a Warholesque arts space. As the rapper Mos Def once described it to the Observer, "It's like a cross between early Hitsville, Andy Warhol's Factory and a little bit of the Algonquin roundtable. But it's something completely different."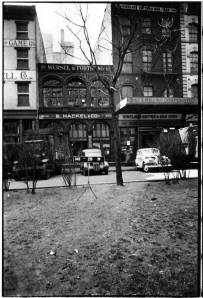 But the mogul and his hipster acolytes have long since moved on, neighbors tell us—as one put it, "it was fun at first, but soon turned into a nightmare-ish disco party scene"—perhaps the "creative deal" he had worked out with the landlord seemed less appealing post-recession? In any event the owner, listed in city records as 172 Duane Street Realty LLC, has apparently resumed plans to turn the building into a mega mansion. Presumably Duane Street Realty LLC, who did not return the Observer's request for comment, is hoping to reinstate a DOB and Landmarks permit that most likely expired during the less-than-favorable years for new construction.
Though the architect of record on the project, Christian Zambrano or Sibertekture Architects, declined to share any details or renderings with the Observer, we assume that the new design will bear more than a passing resemblance to four-story, 8,000-square-foot addition that was designed by Vincenzo Polsinelli the last time around. Although perhaps not quite so modern or quite so large, which were Landmarks' objections to the previous design, which featured a three-story glass facade encasing a "winter garden," behind which the steel and concrete structure would rise, as Downtown Express reported at the time.
Landmarks initially agreed with Community Board 1, which had recommended rejecting the application on the basis of its "overwhelming the building and the block with too many fussy details in the service of too many programs," but later approved a modified version of the addition.