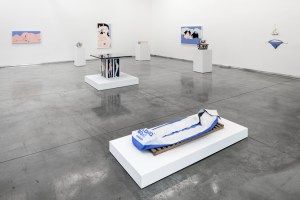 Los Angeles's David Kordansky Gallery announced today that, in September, it plans to decamp from its current Culver City digs to a 20,000-square-foot space at the corner of Edgewood Place and South La Brea, at the southeast edge of the Mid-Wilshire, South La Brea corridor neighborhood, just a five-minute drive from the Los Angeles County Museum of Art. (Culver City is about 8 to 10 minutes from LACMA by car.)
Handling the design is architect Kulapat Yantrasast, with his firm wHY, which has also worked with the Grand Rapids Art Museum, in Grand Rapids, Mich., the Speed Art Museum, in Louisville, Ky., and L&M Arts on its Venice Beach gallery.
The Mid-Wilshire space will be three times larger than Kordansky's current gallery, to which he moved from Chinatown in 2008, and will feature private gardens and two equally sized exhibition spaces. According to a news release, the new "structure joins two existing buildings, previously home to a Hollywood stunt studio and martial arts training center, an auto dealership, and a food market dating from the 1930s." Pretty neat provenance!
Kordansky, which toasts its 11th anniversary this year, shows artists like Aaron Curry, Richard Jackson, Rashid Johnson, Elad Lassry, Mai-Thu Perret, Mary Weatherford, John Wesley and Jonas Wood. Next month the gallery will be at Frieze New York with paintings from the late 1960s and early '70s by the great Sam Gilliam.