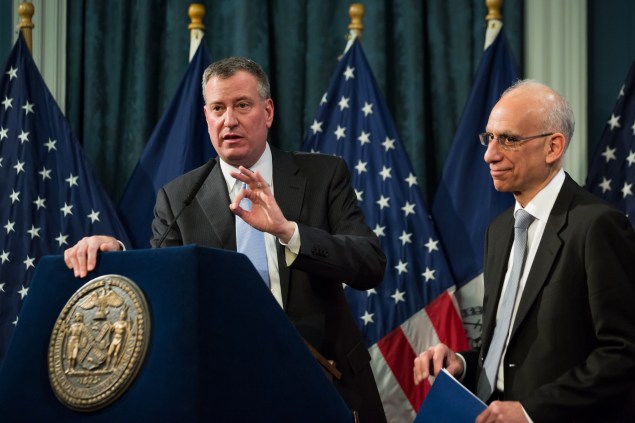 Mayor Bill de Blasio's campaign will return more than $15,000 in cash raised by Sant Singh Chatwal, the hotel magnate and prolific national fund-raiser who pleaded guilty today to federal campaign finance fraud, Mr. de Blasio's campaign said.
Mr. Chatwal, who has lavished campaign contributions on everyone from Hillary Clinton to Harry Reid, was also a key de Blasio backer, serving on the host committee of at least one of the candidate's fund-raisers and bundling thousands of dollars on his behalf, records show.
"Yes, we are returning all funds given or raised by Mr. Chatwal," Jonathan Rosen, who worked for Mr. de Blasio's campaign, told the Observer via email.
Records show that Mr. de Blasio received nearly $15,000 from Mr. Chatwal and his associates. That includes a $4,950 personal contribution, the maximum allowed, on October 19, 2013, as well as $9,900 in bundled money in 2011, the records show.
Three of Mr. Chatwal's relatives also gave Mr. de Blasio the max $4,950, amounting to another nearly $15,000. Mr. Rosen said the campaign intends to return that money, too.
Mr. Chatwal pleaded guilty today in Brooklyn federal court today to using straw donors to make more than $180,000 in illegal campaign contributions to three candidates, including Ms. Clinton, in an effort to gain access and influence federal regulations.
He also allegedly attempted to interfere with a grand jury investigation into his dealings by tampering with a witness, instructing one associate to lie. There is no allegation that the candidates participated in, or were aware of, Mr. Chatwal's schemes.
In addition to his prolific fund-raising, Mr. Chatwal has a rather colorful history. In 2010, he was accused by Indian businessmen of kidnapping associates who owed him money.
In a statement, a spokeswoman for Mr. Chatwal said, "Mr. Chatwal deeply regrets his actions and accepts full responsibility for the consequences. He looks forward to resolving this personal matter."