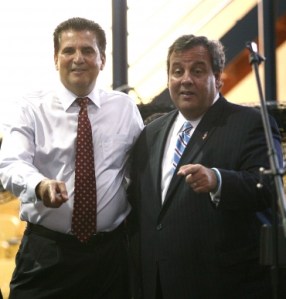 FAIRFIELD – The Essex County executive is no fair-weather friend to Gov. Chris Christie.
Essex County Executive Joe DiVincenzo and his chief of staff, Phil Alagia, got a front row seat to the governor's 118th town hall event in Essex County's Fairfield on Wednesday. DiVincenzo was on hand as Christie took shots at the Democratic-controlled Legislature months after supporting the Republican governor on the campaign trail.
DiVincenzo was a staple on the Christie campaign whenever the governor traveled through Essex County in the lead up to the recent statewide election.
(Democrats criticized DiVincenzo for his decision to endorse Christie, though some said following the November election that they didn't believe DiVincenzo's endorsement and subsequent support would harm the powerful county executive.)
But now, with the election over, DiVincenzo was present when Christie took shots at the state Legislature.
"The Assembly has refused to do their job," Christie said on Wednesday, referring to Speaker Vincent Prieto's (D-32) refusal to post the arbitration cap bill.
"I have to tell ya, I don't get it," he said, never referring to Prieto or any other Democratic lawmaker but charging certain lawmakers with "sticking their heads in the sand."
During the event, Prieto issued the following statement:
"I continue to work toward a compromise that will protect taxpayers and municipalities while also being fair to the police and firefighters who sacrifice so much to protect our safety," he said. "That's a fair balance everyone should support. We continue talking to the key stakeholders involved and remain committed to resolving this matter in a timely fashion – as long as its negotiated in good faith and meets the Assembly's commitment to fairness for everyone."