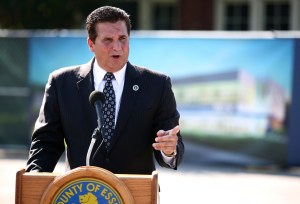 FAIRFIELD – Essex County Executive Joe DiVincenzo says he hopes Democratic lawmakers "do the right thing" and move on an arbitration cap proposal Assembly Speaker Vincent Prieto (D-32) allowed to expire.
DiVincenzo, who attended Gov. Chris Christie's town hall in Essex County, said he agreed with the governor that renewing the arbitration cap is the right thing to do. The state Senate recently voted to renew the cap, though the Assembly permitted the proposal to expire after refusing to bring it to the floor for a vote by the end of March.
"I haven't spoken to Vinnie," said DiVincenzo, adding, however, that he's been "urging [his] colleagues" to support moving on the arbitration cap
"I hope they do the right thing," he said.