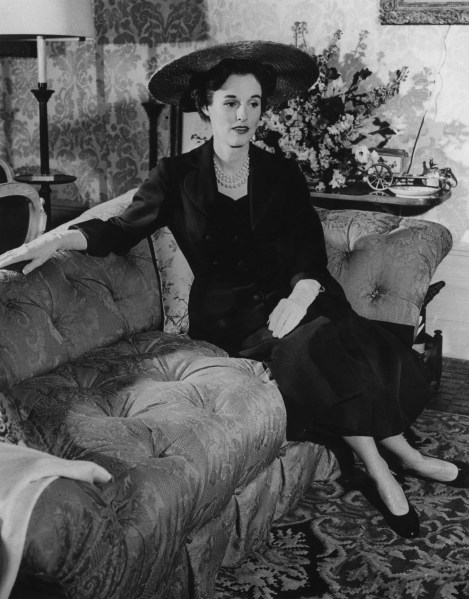 The sands beneath the New York social set are shifting. Charities are seeking more creative ways to raise cash than seated dinners, so there is more mingling, events are less formal, and guests are more diverse. Now, a P.R. wiz or new gallery owner is just as likely to drift off with a bored look on their face from a chat with a society type as vice versa. The social scene is lined with daggers, and if your currency slips, for whatever reason, the daggers will also slip—into your back. Was this what L'Wren Scott feared as her business allegedly took a nosedive during her final months of life? Conjecture is all we have, along with the dawning of a new certainty for everyone in this town. Buckets of cash still cut a path through a crowd, but if you're the partner or offspring of the money, you'd better have something interesting to say or, rather, do.
Jill Kargman, the author of The Ex-Mrs. Hedgefund and Arm Candy, attended the prestigious Spence School with longtime pal Gwyneth Paltrow. Chanel once co-hosted one of Ms. Kargman's book parties, and there is no doubting her high society credentials. If she wanted to be called a socialite—someone perfectly dressed and socially recognized in the tradition of Nan Kempner, Babe Paley or Brooke Astor—she could easily claim the label.
But she absolutely hates that word. So do many other women to whom you might once have affixed the label.
"To me, the term 'socialite' negates actual work as the social part eclipses any career," Ms. Kargman says. "I generally think socialites don't work and 'stay at home' with the kids even though they have half of Manila in their penthouse."
 Even Tinsley Mortimer, the Southern belle who could be considered the Manhattan society doyenne of the last decade—and for years held first place on the website Socialite Rank—bristles at the word.
"I consider myself a hard-working girl who started at Vogue then worked at Harrison & Shriftman after graduation from Columbia," claims Ms. Mortimer. Since then, she has gone on to start a handbag line for Samantha Thavasa, a fashion line called Riccime and written a novel titled Southern Charm.
"Whether with handbags, makeup or clothing," she notes, "I always did all of my own designs and creations and worked very hard. [Accordingly] I always felt defensive about being called a socialite."
Ms. Kargman insists that today the term "socialite" conjures "a different time when perhaps women didn't have as many opportunities."
Lucia Hwong Gordon, who recently chaired the Women's Project Theater gala, which raised $210,000 toward the Women's Project Lab for early career development for writers, directors and producers, claims that socialites can be a force for great philanthropic good and that "many socialites are women who had careers as professional women on Wall Street and public relations, as lawyers and in the arts. As a socialite, it is a duty to be a social light, beaming light on issues and conditions we can improve."
Katalina Sharkey de Solis, who adds delight wherever she goes, adds that almost no women are willing to identify themselves as socialites, because when asked what they do, they will be "judged on the impressiveness and perceived value of their response. Saying you have accumulated a stunning, well-curated wardrobe, you lunch daily at Fred's with your wealthy friends and that you occasionally and generously donate a large enough sum to a charity to have your name included on the invitation is not sufficient."
Of course, that description might be closer to the truth than some of the professional personas these women adopt. While Mses. Kargman, Sharkey de Solis and Mortimer have enjoyed great professional success, others are left fumbling to trying to find an appropriate answer to what they do.
Ms. Sharkey de Solis notes, "There are significantly more people that claim to be deejays, bloggers, fashion designers, P.R. consultants and creative directors than there should be without devaluing the skill set requisite to be a truly talented professional in these fields."
If the tone sounds harsh, it is. The downside of the social circuit is that everyone can expect to be given the third degree about their life and background by anyone they shake hands with. Unlike, say, London or Paris, where an air of mystery or a ridiculous hat can still garner some dignity, neither will wash in New York.
Social types now want and, in some cases, need to dress to reflect a different, modern side of themselves. A side of that works, as well as works the room.
For help reflecting that image, they often turn to independent stylists. As fabulous as the choices of Bergdorf Goodman's Betty Halbreich may be, sometimes clients want someone further off the beaten path. 
To Dayna Spitz, who works with media, upscale, private and showbiz clients who ask her to help the socialites reveal their nonsocialite side, that means adopting younger brands. She dismisses Oscar de la Renta and Carolina Herrera, which Ms. Mortimer says "evoke the image of a traditional socialite" as matronly, though her clients range in age from 35 to 70. She explains that "even in that generation, they feel like it's just not individual enough. The women I dress now want something more unique and not to be clumped into a category."
Her clients want to dress in a way that's reflective of their job—or at least their dream job—rather than their place in the social strata.
For instance, she remarks, "I have a client who is a major collector of contemporary art. To look at her, she's an older woman, kind of overweight from the Midwest. But she wants to look artsy, because she goes to a lot of galleries and art events. So I keep in mind when I shop for her how to fit into what she wants to be."
Unlike many struggling "arty" figures that woman may wish to mingle with, though, the client does not incorporate quirky thrift store finds into her wardrobe.
"Nobody's going to Beacon's Closet—that's for sure," remarks Ms. Sharkey de Solis.
"Most of my clients," Ms. Spitz explains, "aren't really into vintage."
Ms. Spitz outfits that client instead in Dries van Noten, Marni and Simone Rocha.
While it might seem more in keeping with certain careers for these social types to appear in a casual cardigan or a kimono acquired in Bhutan, Ms. Spitz remarks that it remains a challenge to get them to incorporate anything that doesn't come with a recognizable designer label into their wardrobe.
While she has one client who enjoys mixing relatively inexpensive pieces from Bergdorf's 5F contemporary floor, like Vince, whose pieces generally retail for $300, in with the rest of her wardrobe, for most, she suggests brands like Michael Kors or Proenza Schouler (who retail for several thousand).
While society has, rather recently, come to expect women in the social world to have an exciting answer to the question, "What do you do?" it also expects them to continue looking glamorous at every event they attend. If you want to keep getting invitations to the best soirees, you will likely, as Ms. Hwong Gordon notes her friends do, "always need a glamorous ball gown."
"I still have clients that are dropping $60,000 [on clothing] in three hours," says Ms. Spitz.  Therein lies the slightly rough rub. The backbone of all who participate in New York society is cash. Despite the leaps forward in terms of open doors and diversity at those tables of 10 at the Waldorf, the personal scaffolding of the guests must be strong. So to a list that includes money, connections and a passionate cause or career, add nerves of steel. ν