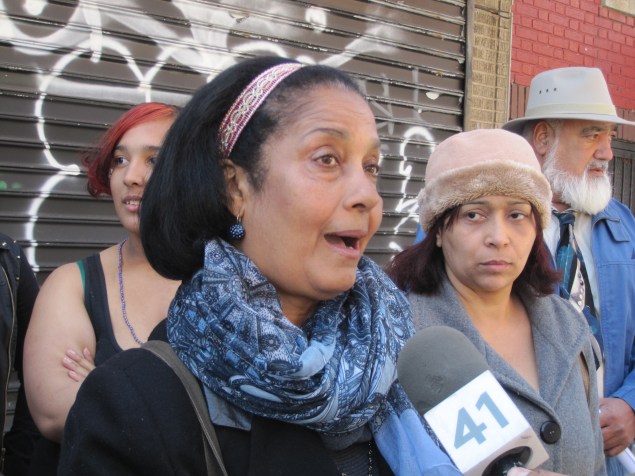 Supporters of congressional hopeful Yolanda Garcia gathered today outside State Senator Adriano Espaillat's campaign headquarters to protest what they alleged is harassment and intimidation against their candidate by backers of Mr. Espaillat.
Twice in recent weeks Ms. Garcia, a relatively little-known candidate who entered the race earlier this month, claims she was awakened in the middle of the night by violent knocks on her door, which she has blamed on her decision to join the field challenging veteran Congressman Charlie Rangel.
"The bottom line is this: She has been intimidated and harassed," Ms. Garcia's campaign manager, Richard Soto, said, speaking at a protest attended by a handful of volunteers across the street from Mr. Espaillat's campaign office in Inwood.
"Now we're not saying that he sent people to harass her, but the people around him or those affiliated with him are doing this. And he should either condone it or speak against it. Because she has a right to run as a citizen and she's concerned," he added. "It's just sad."
Francesca Castellanos, a volunteer for Ms. Garcia who previously ran against Mr. Espaillat, went further, saying the alleged intimidation was part of a larger pattern with Espaillat when it comes to female candidates.
"We know that Espaillat, his campaign, has a habit of harassing, especially females. It's not unusual," she said, pointing to her own experience in 2010, when she said she was targeted as a state senate candidate. "This is something that his campaign has been constantly doing. And when you do go to the police, because we have gone to the police, they disregard it. They don't want to get involved because it has to do with politics, especially when you're complaining against an elected official who's in office." The NYPD did not immediacy respond to a request for comment.
The group also accused Mr. Espaillat of trying to push Ms. Garcia off the ballot by challenging her petitions, which those gathered insisted were legitimate.
Ms. Garcia, who speaks limited English, described the incidents, which were first reported by the Daily News, through a translator. The first time, Mr. Soto said, a man began "banging on the door. She lives alone … He was mumbling and cussing her out." As the man was leaving, Mr. Soto said, he mentioned the name "Adriano."
The second encounter took place at 3 a.m. the next week, after Ms. Garcia returned from spending several days hiding out at her daughter's house.
"For me was in this time was very, very difficult," Ms. Garcia said, adding through a translator, "I'm filled with fear."
Mr. Soto called on Mr. Espaillat to condemn the claimed harassment as well as introduce legislation that would force police to treat acts like the ones Ms. Garcia described more seriously. "They're waiting until the person is either dead or physically hurt," Mr. Soto said.
A spokeswoman for Mr. Espaillat distanced her candidate from the allegations, which she said must be investigated by police.
"This is a serious allegation that needs to be fully investigated by the police department to determine the veracity of it," she said in a statement. "Accusations like this play into a stereotype and only serve to distract campaigns from addressing the fundamental issues of affordable housing, smart economic development and immigration reform that should be the center of this election."
As for the petition challenge, the Espaillat rep said that they are nothing unusual.
"To our knowledge every candidate in this election has had his or her petitions challenged. We will defend our petitions vigorously the same way we have always done and it is our expectation that every candidate will be able to show that they have enough valid signatures to qualify," she said. "Protests like this only serve to distract campaigns from addressing the fundamental issues of affordable housing, smart economic development and immigration reform that should be the center of this election."