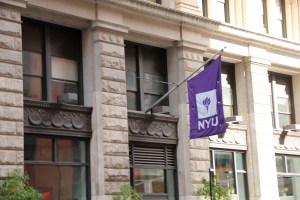 Criticizing leaders is now highly inappropriate in North Korea, China, and… Greenwich Village.
NYU Law School students Luke Herrine and Leo Gertner were requested to hand over their personal emails after having helped circulate a letter criticizing school trustee Daniel Straus and his home health aide and nursing home company, CareOne Management, DNAinfo reported.
Second-year student Mr. Herrine and first-year student Mr. Gertner were part of a group of students collecting signatures to send a letter to the school dean regarding CareOne's treatment of employees. Here's an excerpt from their message:
Dear Dean Morrison,

As law students, we believe NYU School of Law should be led by those who respect the rule of law. For this reason, we were distressed to learn that NYU Law Trustee Daniel Straus, who also funds the Straus Institute of Law and Justice, has repeatedly acted in a way that fails to demonstrate such respect. The National Labor Relations Board has charged his companies, CareOne and HealthBridge Management, with violating federal labor law no fewer than 38 times. U.S. District Court Judge Robert Chatigny has held HealthBridge in contempt of court for failing to comply with an order to return 600 striking nursing home workers to work at their pre-strike level of compensation. Mr. Straus has manipulated bankruptcy and RICO law to punish workers for exercising their clearly established rights to engage in collective action. He has hired thugs to harass workers and NYU students who were protesting his actions. We would be happy to elaborate on any of these statements upon request.

At NYU, we have been taught the importance of ethical lawyering and working for the public good. Mr. Straus's actions are at odds with these principles. It seems to be common sense that major decisions about our school should be made only by those who respect the law and the values that NYU promotes.
On March 20, the two students were surprised to be served with subpoenas from CareOne's attorneys, asking them to hand over all email correspondence, including drafts, that related to Mr. Straus and his business.
"I called Luke immediately, in shock that Mr. Straus and CareOne would go so far for just expressing what I thought was an appropraite opinion," Mr. Gertner told the Observer.
"People want to be able to speak on campus about things that are important to them and this affects their ability to do so," Mr. Herrine told DNAinfo. "This makes them scared."
Their attorneys now have until April 25 to prepare a motion arguing for the subpoena to be removed. The students were happy to hear that NYU would cover their legal costs.
"I'm glad they're doing the responsible thing and not putting the burden on us to defend our free speech rights," Mr. Gertner told the Observer.
Even though they are grateful for the support, the students are still disappointed that NYU has been reluctant to pick a side in the case.
"We're hoping that the school will issue a statement that publicly opposes the subpoena. But NYU hasn't done that yet," Mr. Herrine said. "We think it would be appropriate for the administration to distance itself from Straus' actions."
However, the school offered a statement on student rights to DNAinfo.
"We vigorously support the right of our students to express their views and to organize and participate in lawful demonstrations and other protest activity, at the same time that we acknowledge that parties to litigation are permitted, subject to applicable rules and judicial oversight, to gather evidence in support of their case," the statement said.
The news about the subpoena sparked angry students and faculty to start a petition calling on Mr. Straus to withdraw the requests. Over 500 students, faculty and alumni have signed it, according to Mr. Herrine.
The students will find out on April 25 if they need to hand over all their private online correspondence.
"We're really hoping the subpoena will be removed. We will celebrate by studying for finals without having to worry about this," Mr. Herrine said.
This is not the first time that Mr. Straus' company has been under fire. In 2012, CareOne reportedly sued the union SEIU 1199, accusing it of manipulating NYU students to try to remove Mr. Straus from his job.