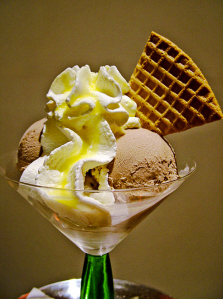 If you thought chocolate covered strawberries and oysters were aphrodisiacs, wait until you've tried Viagra ice cream.
After bringing us roast beef, horseradish and glow-in-the-dark jellyfish ice cream, food inventor Charlie Harry Francis of the Lick Me I'm Delicious blog decided to take the gelato game to the next level, the Latin Times reported.
On his blog, Mr. Francis describes creating a champagne-flavored, Viagra-laced ice cream upon a special request from an anonymous A-list celebrity.
Every scoop of the blue frozen treat, which was conveniently named "The Arousal," contained tasty bubbles and a 25-milligram dose of the erection-enhancing drug, an appealing combo for someone looking to pop bottles and boners.
Mr. Francis was not willing to give up the identity of the John Doe of his Viagra ice cream.
"It's all very secretive, we've had to sign a confidentiality agreement so I can't reveal the name of the client," Mr. Francis told the Latin Times.
However, he let slip that the client was not just scouting scoops for himself.
"This was one of the weirder requests we've had; to make Viagra ice cream for a party," Mr. Francis wrote on the blog.
Since it's only made upon request, you're not likely to find Viagra ice cream next to Ben & Jerry's Cookie Dough on the shelves anytime soon. But Mr. Francis told the Latin Times that if someone wants to try his controversial dessert in the future, "I am sure we can make it for them."
And then, to the most important question: did a scoop of Viagra ice cream have similar effects to taking the little blue pill?
"Yes, the client was very happy with the end result," Mr. Francis told the Latin Times.