On Wednesday night at Top of the Standard, former Ford Models CEO Katie Ford hosted her annual bash to raise funds and build awareness for her Freedom For All foundation, which works to end modern-day slavery and human trafficking. The sex-slave trade is the second most profitable criminal industry after drug trafficking, affecting over 27 million people daily.
Luminaries from Duff Lambros, Nicole Miller, Ross Bleckner, Jay Snyder, Monica Winsor and Josh Mailman raised a glass to the formidable fight for freedom and the importance of acknowledging the prevalence of forced labor and domestic servitude. The evening's highlight was a lively performance by Sarah Jones, most commonly known for her Tony Award winning one-woman show Bridge & Tunnel, originally produced by Meryl Streep.
A UNICEF ambassador, poet, and playwright, Jones has performed everywhere from "Sesame Street" to 1600 Pennsylvania Avenue, invited by Michelle Obama to help mark Women's History Month. Intrigued to learn that April is Sexual Assault Awareness month, Jones welcomed the opportunity to enlighten the public: "I wasn't aware of that, but I do think every month is a good month for Sexual Assault awareness. I want to make sure we've got twelve months covered!"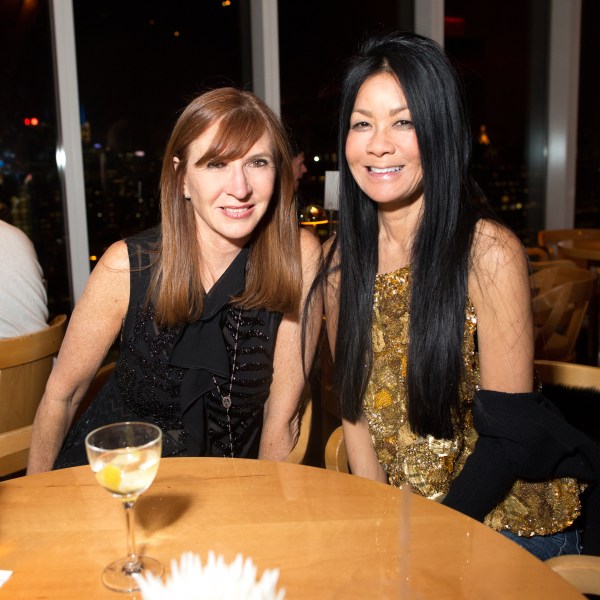 After Jones had brought several of her distinctive characters to life in a way both disarmingly comic yet true to the cause, three real-life survivors of sex trafficking held the crowd spellbound with their personal stories. "They had similar dreams to ours, but their lives were taken from them," Ford noted afterwards. One of the speakers, Holly Austin Smith, was marking the publication of her new nonfiction volume Walking Prey by Palgrave Macmillan, which she described as an academically researched study interwoven with her personal account.
As guest sipped Moscow Mules and downed passed sliders and tuna tartare, R.E.M.'s Michael Stipe told Shindigger that he sees America's slaveholding past as a barrier to greater awareness about the night's cause. "Americans are very freaked out by the word 'slavery' and what it represents. It's a past that we're very embarrassed about, and it's easier to not think about. But this brings it right into our own neighborhoods and today's consciousness."
"I'm surprised it doesn't get more press. Especially with the Ohio kidnapping story; what were the neighbors doing?" lamented designer Nicole Miller.
Many guests were drawn by Katie Ford's personal commitment to the issue. "I've known Katie for many years. Katie always wanted to be Margaret Mead. I always knew she was going to do something magnificent in her life and this is it," longtime friend and onetime MTV VJ Duff Lambros told Shindigger.