Dennis Crowley, founder of tech giant Foursquare, and his wife Chelsa Crowley, a stylist, completed the Boston Marathon together this past Monday. The Crowleys ran together last year, but were unable to finish due to the bombing, and so decided to run again as a pair this past week. Crowley ran with bib number 34001, which he qualified for this year as he was unable to complete the race in 2013. However, Mrs. Crowley did not qualify for a bib this time around. Rather than wait her chance in 2015, they created a fake bib.
Chelsa Crowley wore bib number 34033, with her Twitter handle @chelsa pinned beneath it. She further confirmed the fraudulent bib in this series of tweets: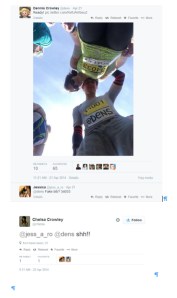 The rightful owner of bib 34033 is Kathy Brown, who discovered that someone else had used the number she qualified for while looking through official photos on Marathonfoto from the race. She noticed that some of the pictures were of another runner, and was able to look her up by the Twitter handle pinned to her shirt.
In an interview with WCVB, Brown said she was "a little dumbstruck. I didn't get it at first. I put that work in it and it wasn't fair that someone else didn't have to do that." Brown raised thousands of dollars for her charity, a multiple sclerosis fund, a disease that claimed her uncle.
The Crowleys admitted that they faked the bib because they wanted to run together, in memory of the emotional experience from last year. The couple got separated due to the bombings. Brown understands that it was only by chance that Mrs. Crowley ended up with her number, and does not believe there was any malicious intent. She does believe "everyone should have gone about it the right way and done it the fair way that we all did."
The Crowleys are not the only bib forgers. In what DeadSpin is calling Bibgate 2014, four runners were found using bib number 14285. Two of the runners were identified as Boston College cross country athletes. This bib number was replicated after the rightful owner of bib number 14285, Kara Bonneau, posted an image of it to social media. It was likely printed directly from her Facebook or Instagram account.
It is likely that Chelsa Crowley will be disallowed from future marathons and Boston Atheltic Association races. The organization is reviewing the complaints they have received about fake bibs this year, issuing this statement: "[The BAA will review] with full consideration to the impact of cheating on those who have worked so hard to qualify and those who give so much of themselves to raise money for our outstanding local charities." Given the circumstances around their choosing to run together, and the pair's $5000 donation, perhaps the BAA will go easy on Mrs. Crowley.
Update: Dennis Crowley sent us the following comment, which also appeared on the WCVB article page:
Dennis Crowley (Chelsa's husband) here chiming in on this. First of all, our apologies to anyone we offended. After running together last year, getting split up and not finishing together, we both felt like we needed to run again and finish together to get closure. I wrote a blog post about our experiences last year and my motivation to run Boston again this year: https://medium.com/editors-pic…

Yes, using a duplicate number to get Chelsa into the starting corral with me was wrong. I don't expect everyone to understand our strong need to run and and finish together — but after trying unsuccessfully to get a charity number and trying unsuccessfully to officially transfer a number from an injured-runner friend, we did what we could to make sure we could run together in hopes of finishing together.

I sent an email to Kathy Brown, the woman who rightfully earned #34033 to apologize for any disrespect, hurt feelings or confusion. Our intent was never to "steal" anything from anyone — our intent was to finish the Boston Marathon together as we tried to do last year. (#34033 = first 3 numbers of my number + "33" which is Chelsa's age. We chose a number close to my number to ensure we'd be next to each other at the start.)

Again, sincerest apologies to anyone we offended or disrespected, including the BAA and the police/fire/EMT crews that worked so hard to make sure Monday's race was safe for all runners.

Dennis + Chelsa