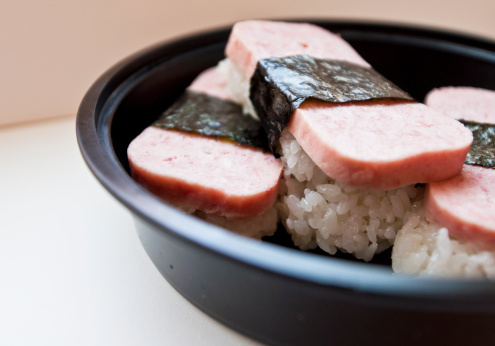 Spam sushi, anyone?
Chefs from Brooklyn and the Lower East Side are cooking up tasty new hybrids out of Spam, according to Gothamist.
At New York Sushi Ko on Clinton Street, Chef John Daley whips up fried rice with seared ahi, fresh pineapple and bits of the mystery meat that's now become an it ingredient at Pan-Asian hipster joints. Tattoo sleeves peeking out of his chef's whites, the 15 East-trained cook also assembles a Hawaiian-inspired roll called musubi: a slab of the canned meat on top of rice, bound by a strip of seaweed.
"Fresh from the can!" joked Mr. Daley about his new staple pantry item, to the site. "And sourced locally from the nearest bodega."
Williamsburg food joints Suzume, a ramen bar, and Onomea, a Hawaiian restaurant, also serve the high-low sushi. "For a lot of Asians, it really is soul food," Suzume's Mike Brioness said.
Fueled by childhood memories, chef Nick Subic of Bushwick's King Noodle made his own version of Spam fried rice, inspired by the omelette breakfasts he had during Christmases in Michigan. Lurking amid rice and green onions are pieces of scrambled egg and the pre-cooked, extender-filled pork shoulder, originally introduced as a staple food for army men.
Meanwhile necessity, not nostalgia, was the mother of invention at Filipino Restaurant Maharlika.
Running out of food to serve at a wedding reception that seemed to grow by the minute, Chef Miguel Trinidad cut a leftover brick of Spam into sticks, battered them and threw them in the fryer—and "Spam fries" was born. "Everyone went nuts," he said. "I would order a case [of Spam], 12 cans, and it would be gone in two days."
Call it "can-to-table."