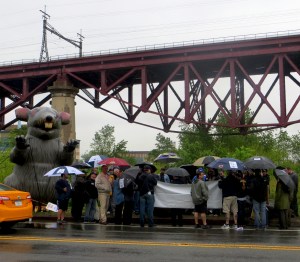 Frieze New York and city labor unions have settled a lengthy dispute over the art fair's use of exclusively non-union labor. Frieze has agreed to incorporate partial union labor in the upcoming fair, running May 9 through 12 on Randall's Island, and to only use union labor for the 2015 edition of the fair.
"It was a great win," said George Miranda, president of Teamsters Joint Council 16, who chaired the talks. "We're satisfied with it. Our goal all along was to make sure it was 100 percent union labor, and that's what we accomplished."
The decision comes after two and a half months of negotiation, and several union demonstrations. Last May, protestors representing the Teamsters, the New York District Council of Carpenters and the International Alliance of Theatrical Stage Employees (IATSE), among other unions, inflated their signature red-eyed rat at the entrance of the fair. Several artists with work inside the tent, including Andrea Bowers, who often incorporates labor-rights imagery in her practice, became involved in the debate. At the time, Frieze representatives maintained that they were not, and never had been in a labor dispute.
It depends how you define dispute, said one Frieze representative in London, explaining that Randall's Island is "not a unionized site. It's an open shop site, we've run an open shop. The change this year was really due to the fact that we listened to what people have been saying for the past two years, we really want to make a really good local contribution, and then when we entered into those negotiations, they were really positive."
"We really feel like the unions really met us halfway," she continued. "It was a really productive conversation, they were really flexible and willing to work something out."
According to Bernadette Kelly, an international representative of the International Brotherhood of Teamsters, who moderated the talks, the Randall's Island Park Alliance and politicians like New York City Councilmember Melissa Mark-Viverito were crucial in bringing both parties to the table. Frieze Co-Director Matthew Slotover was highly involved in the discussions, as were three of the unions that participated in last year's protest, the Council of Carpenters, two divisions of the Teamsters, locals 807 and 817, and two IATSE divisions, locals 1 and 829 (Stagehands New York and Exhibition Employees).
Frieze and union leaders are expected to announce their agreement in a joint release.