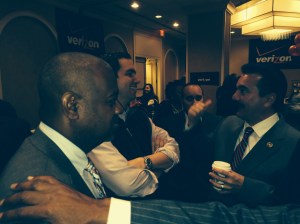 NEWARK – Jersey City Mayor Steve Fulop was not suited up when he strode into the breakfast held before the 77th annual New Jersey Chamber of Commerce Walk to Washington train trip at the Newark Hilton on Tuesday morning. Dressed casually, he was getting fueled up for the ultimate schmooze ride to the nation's capital.
Fulop, a potential Democratic gubernatorial candidate, was perhaps internally cheered by the fact that his potential South Jersey rival, State Senate President Steve Sweeney (D-3), was nowhere in sight because of what his office said were scheduling conflicts. Externally, Fulop radiated confidence as a line of politicos formed in front of him, looking for a few minutes to talk.
Fulop took a few minutes to talk to PolitickerNJ.com about the Newark mayoral race, which pits South Ward Councilman Ras Baraka against former Assistant Attorney General Shavar Jeffries. The Newark race reminds Fulop of his 2013 struggle to oust then-incumbent Mayor Jerramiah Healy in Jersey City.
"There are many parallels. Here in Newark, the establishment thinks they're in great shape, and then you see Ras' campaign, which is very similar to ours last year," Fulop, whose endorsement of Baraka in February created shockwaves statewide, told PolitickerNJ.com as he prepared to get on the train. "On any given Saturday, Ras has 300 volunteers, with a capital V, out there knocking on doors citywide. You cannot pay for that type of energy. Ras is going to win because the energy that is surrounding Ras' campaign is very similar to the energy that we had. It's priceless.
"Money is replaceable. The only thing that is not replaceable is time," Fulop added, noting that only three weeks separate Newark voters from their chance to go to the ballot box. "People are out there giving their time to Ras. That's why he's going to win."