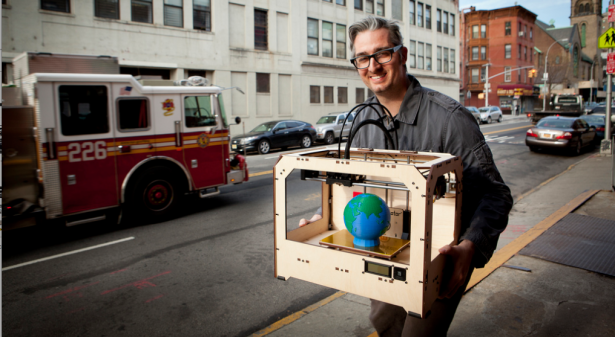 Advice for young techies and entrepreneurs is often cliche and abundant: 'start something'; 'fail early and often'; 'don't rely too much on your degree'. But when you hear it from the top tech leaders in New York City, it's enough to make you stop and listen.
This morning in DUMBO, Brooklyn Tech Triangle kicked off Tech Triangle U, a series of talks, "speed dating" sessions, and hackathons to connect soon-to-be college graduates with the tech scene in Brooklyn. For the opening keynote, Manoush Zomorodi, host of WNYC's New Tech City, asked Brooklyn's top names in tech about what they consider when hiring.
The group included:
We collected some of their best advice and summarized it here:

On the value of a college degree:
Bre Pettis: My first job out of college was a cafe. What about you guys?
Chad Dickerson: I delivered pizza.
Alexis Ohanian: I started Reddit.
[laughs all around]
Bre Pettis: You see students coming out of school, and they don't have experience doing stuff. They're used to doing homework — I don't need homework. I need creativity and experience. If you're in school, do something you can be proud of, start a business. I'm a huge advocate for going to school, and one of the benefits is you get a community. But you can create that outside of school if you want.
Chad Dickerson: There are all kinds of options now — you can get an MIT degree from home when you're nine years old now, but if I had studied computer science in 1993, I would be a Pascal expert. Whether you go to school or not, our industry requires you to continuously study and be up to date, and you can do a lot of that outside school.
Bre Pettis: Information is so available. You can't blame anyone else for not learning something — you can't say "I didn't go to the right school."
Aaron Shapiro: We're hiring everything from developers to designers, creative people, every discipline. We don't care about degree, what matters is skillsets. If you're a good developer, and you can prove it through side-projects. We'll hiring you whether or not you've had a degree.
Bre Pettis: One of the things going to college gives you is access to things you may not be able to get in other ways— but the days of educational institutions having a monopoly on those opportunities are way gone.
Aaron Shapiro: Well, I think it's good to go to college, but while you're in college, think about creating stuff, and don't rest on your degree. Every person who dropped out of school or doesn't have a degree has to justify that in the interview. It would have been easier for them to have gotten the degree and done those cool things too.
On the importance of sucking:
Alexis Ohanian: On my book tour, I did 78 stops at Universities, and what these guys are saying is so right. There's so much skepticism [among college students], because so much of education for all of our lives is about following instructions, passing tests, and fearing failure. But life, whether you're an entrepreneur or violist, is full of failures and setbacks and sucking. I wish there were more opportunities to suck and fail in school.
---

There are plenty of big players bringing in tech looking for talent in NYC. We went to a job fair to ask employers like Buzzfeed, Gilt, and Thrillist what they were looking for. Read more here.

---
Bre Pettis: When you look [at starting a company] rationally, it's such a bad idea. It's almost guaranteed failure, even if you eventually succeed. The only way you get there is by sucking. If there's anything I have to say [college administrators], it's to create a program of iteration and failure. You know when you first draw something, and you say "that sucks?" Imagine if everyone who ever drew believed that first instinct. We'd never have artists. You sort of have to trick yourself into starting a business.
Chad Dickerson: Failure is so important. You hit failure every single day. I was talking to a CEO who said "If you get good news, go home. Bad news is sure to follow."
On what students can do to get started now:
Alexis Ohanian: I would challenge everyone to figure out something you really want to accomplish you want to figure out in the next week, day, or month, and really doing it, whether its launching your Etsy store, or a kickstarter campaign. Get in the habit, because once you get that drug, once it's in your system, it feels so good.
Chad Dickerson: Make a list of the things you really want to do in life, starting with the one that gives you the most anxiety, and try to do the one that gives you the most anxiety.
Aaron Shapiro: Go for it, give it a shot, fail 10 times, and if you hit on 11, you're still a success.
Bre Pettis: I think we've nailed the common theme. Try, try again. One of the things that is hard to remember is that we're not giving that advice because we've done it — it's something we need as humans to be happy, to be engaged in what we do, and feel like what we're doing has impact.