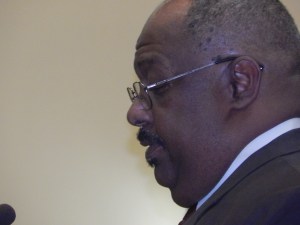 PATERSON – It's possible that only incumbent Mayor Jeff Jones and his circle of supporters don't find Dave Gilmore entertaining – and this is not the lead guitarist for Pink Floyd – in this city that gave birth to Uncle Floyd.
A former IBM manager and department head for the City of Waterford, Connecticut, Gilmore is running arguably the most candid, shoot-from-the-hip campaign.
Friendly detractors point out that's because he knows he can't win, and doesn't hold elected office, moreover, which means he doesn't have to worry about being rude.
Laughs turn to groans too when his attacks on Jones become heavy-handed.
"Paterson's very conservative, very genteel," Gilmore says unapologetically.
Tonight, at the NAACP forum, the candidate itemized his lone positive assessment of Jones' tenure, harkening back to the 2012 Democratic Primary when the mayor bucked U.S. Rep. Bill Pascrell (D-9).
"I agree with the mayor on one thing: he went against Bill Pascrell," said Gilmore, who has routinely savaged Jones and slapped at Council President Andre Sayegh – who has the backing of the Democratic Party and tapproval of Pascrell – but carefully withheld criticism of former Mayor Jose "Joey" Torres, who coyly didn't rule out Gilmore as a future Department of Community Affairs head when asked by PolitickerNJ.
"I started a Facebook page not with the oringinal intent to run for mayor," Gilmore admitted earlier today. "I was in it to advance ideas – ideas that wouldn't be discussed without me in the race."
What the candidate wants people to examine, he said, in the end, post May 13th, is how he performs relative to how much money he spent on his campaign, which he said is nearly nothing.
"That should be an interesting analysis," the candidate said.