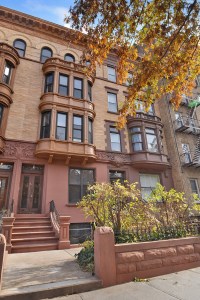 Olympic medalist, corporate attorney, CBC on-air sports analyst, Goldman Sachs vice president: These are just a few of Anne Montminy's many hats. Are you envious yet, of this Olympic hall-of-famer's specs? No? Well, perhaps you should have a look at her new house. Ms. Montminy, a member of the 2000 Canadian diving team in Sydney, is now a gentrifier of the first rank, having scooped up a $2.3 million eight-bedroom(!) townhouse at 291 Clinton Avenue in the Clinton Hill section of Brooklyn, according to city records.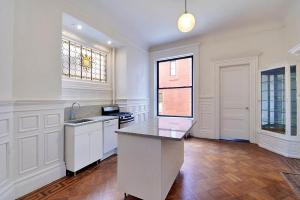 "This might be the place!" reads the listing, held by Merele Williams-Adkins at Corcoran, an apparent nod to the Talking Heads. (Hipsters love them some David Byrne, dontcha know.) Just shy of 40, Ms. Montminy may be outgrowing the ranks of hipsterdom, but she is perfectly eligible, of course, for Talking Heads references.
The house itself is just plain long in the tooth. Where real estate is concerned, though, that's not necessarily a bad thing. Built in 1905, it boasts a true English basement and original parquet floors, wood-burning fireplaces and vaulted ceilings. Roof, facade and electric systems have been brought up to date, while moldings, marble and stained-glass remain. Located on a leafy, picturesque block, the home sprawls 4,500 square feet. Configured currently as seven distinct units—four of which were rent-stabilized—the property was delivered vacant, and stands ready for conversion to a single-family. (And for a gut renovation, no doubt.)
Due to a policy excluding non-market sales (as through an auction, foreclosure or between related parties, for example) from building statistics, it is unclear how former owners Jeffrey Lee, Irene Cheng and Brett Snyder—the latter are the married proprietors of Cheng and Snyder, an Oakland-based architecture studio—made out on the sale. But they acquired the property in 2012 from one Clcs Projects LLC, which had purchased it two years earlier for $800,000. Such inflations are about par for the course these days in Ms. Montminy's new neck of the woods. Just down the street, at 76 Clinton, is a house asking $2.25 million, and in easy walking distance are several more to be had for $2 million and up.
All of which is to say that it's become an eminently appropriate neighborhood for Goldman Sachs employees to hang decorative Olympic medals. We're sure Ms. Montminy will agree, this must be the place.