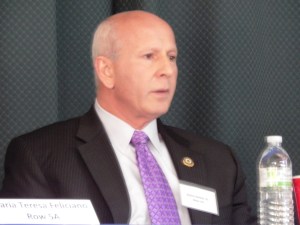 PATERSON – Trying to position himself in the Paterson mayor's race as the law and order candidate, private eye Aslon Goow bashed a rival's crime prevention plan as derivative of his own.
"I think it's very weak," said Goow, reacting to the plan submitted by Council President Andre Sayegh. "Everyone is piggybacking off of my plan. It's weak."
Like another contender, former Mayor Jose "Joey" Torres, Goow supports curfews as a crime-curtailer.
That distinguishes the two of them from Sayegh and incumbent Mayor Jeff Jones, both of whom oppose a curfew.
"I could support it but a lot of kids are coming from dysfunctional families and I would back it to reinforce parent accountability not as punishment," said Goow, who referred to two public polls in which Patersonians indicated support for a curfew.
The former Ward 2 Councilman said part of government resistance to the imposition of a curfew includes wariness on the part of local law enforcement. "Police have complained about it. Their job is not to complain but to enforce the laws that are there," Goow said. "It's something to look at again, maybe more of a business curfew."
A party player who campaigned for Sheriff Richard Berdnik and U.S. Rep. Bill Pascrell (D-9), Goow lost his 2012 election and dropped a notch in Paterson's political stratosphere, even as Sayegh ascended in the eyes of Pascrell allies impressed with his campaign work rate and loyalty.
"They say I'm not a team player," Goow griped, withdrawing his phone and displaying an undated photo of himself at a podium with the Democratic Party team that now supports Sayegh.
"Look at that – that was me backing the team – and yet they say I'm not a team player," he added.
Shorn of some those older allies, Goow says he is the only candidate in the contest who has made crime-fighting the focus.
The late Mayor "Marty Barnes used to scream about police brutality and then he went to jail," Goow said. "He disbanded the elite street cops we had in Paterson, and now we have 25 different street gangs in the city. Throughout this campaign, I have talked about police visibility and presence. Everybody was talking about economic development and now everyone's jumping on my police program."