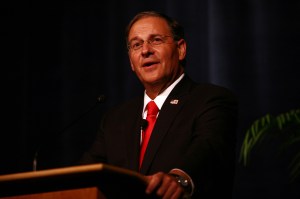 TRENTON – A top Assembly Republican indicated Wednesday GOP legislators serving on the legislative committee investigating the George Washington Bridge lane closings are hitting a breaking point.
Assemblyman Jon Bramnick (R-21) says GOP lawmakers are in discussions about whether they will continue to be a part of the joint legislative committee investigating the Gov. Chris Christie administration over the bridge controversy.
"We're going to meet and discuss what the future is going to be with this committee," Bramnick told PolitickerNJ.
"The Republican members of the committee have not been consulted at all," he said. "We're going to review the history of this committee's leadership to determine whether they will continue to receive bipartisan [involvement]."
The statement comes after the committee's co-chairperson, Assemblyman John Wisniewski (D-19) told PolitickerNJ he was "frustrated" with the documents the committee recently received from the law firm hired by the administration to conduct an internal review of the controversy.
"I'm frustrated," Bramnick responded.
"We expect to be treated as participants and not as observers," he said. "These members want to be a part of the decision making process, not be informed of the decisions."