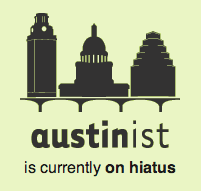 Gothamist National Media, the hyperlocal news empire based in New York City, announced yesterday that their hyper-local site Austinist is officially closed.
"As an independent, bootstrapped media company, we have to run lean and mean," Jake Dobkin, the founder and publisher of Gothamist, told Betabeat. "That means pruning the tree each year to keep it healthy and strong, and that's what led to the Austinist decision."
Gothamist brings in most of its revenue from national advertisers, who prefer denser markets and coastal cities, Mr. Dobkin said. Austin just couldn't pull in that same level of interest as a city like Chicago or LA.
"The local advertising was solid, but not strong enough to support the kind of site we wanted to run," Mr. Dobkin said.
Gothamist overall is profitable, Mr. Dobkin said, with strong properties in New York, San Francisco, Washington DC, LA, and Chicago. Traffic has nearly doubled year over year, with 38 million page views this January, and that traffic has brought in the ad revenue to match.
"[Those cities] are all large, wired, and in-demand from advertisers," Mr. Dobkin said. "Over the years we've tried four or five other cities that didn't take, possibly because they lacked one or more of those qualities."
The Gothamist staff had grown close with the Austinist staff, Mr. Dobkin said, and outgoing editor Aleksander Chan will be joining the Gothamist team here in New York, where he'll never be in want of hungry advertisers.