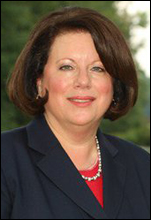 A New Jersey lawmaker seeking an opportunity to serve in the nation's capital said on Tuesday it was "absolutely irresponsible" for Secretary of State John Kerry to suggest Israel could risk becoming"an apartheid state."
State Sen. Linda Greenstein, (D-14), who's vying for a chance to replace outgoing U.S. Rep. Rush Holt (D-12), told PolitickerNJ she's glad to see the secretary of state is walking back comments he made over the breakdown of peace talks, but said Kerry's likening of the Palestinian-Israel relationship to the racially segregated South African regime was inappropriate.
"I think he's backtracked on them but certainly I feel they were inflammatory," she said. "It's completely unproductive."
Greenstein – who, if elected, would be the state's only Jewish federal lawmaker – said Kerry's statement will do little to move peace talks in the right direction.
"To try to apply it here definitely doesn't move us forward," Greenstein said.
"It's not a word to be used and it's not an apt comparison," she said. "I think he realized that and that's why he's pulling it back."
Greenstein is running in the Democratic Primary against Assemblywoman Bonnie Watson Coleman (D-15), Assemblyman Upendra Chivukula (D-17) and plasma physicist Andrew Zwicker.
Dr. Alieta Eck is pursuing the Republican nomination in CD12.