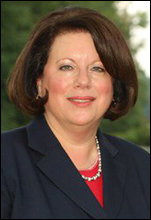 State Sen. Linda Greenstein (D-14) snagged the endorsement of the Mercer-Burlington Building Trades Council Wednesday.
The group, comprised of 22 local unions, represents more than 20,000 members throughout the region.
"No one needs to tell us where Linda stands on issues important to labor, because she's been fighting alongside us to create good jobs and get people back to work," said Assemblyman Wayne DeAngelo, president of the council, in a statement.
"We're going to work for Linda, because she's been there to put people back to work across Central Jersey so they can support their families and our economy," said DeAngelo, who announced earlier this year he would seek Greenstein's Senate seat if the state lawmaker goes to Washington.
Greenstein is battling against Assemblywoman Bonnie Watson Coleman, Assemblyman Upendra Chivukula and Andrew Zwicker in the Democratic primary to succeed outgoing U.S. Rep. Rush Holt (D-12) in Congress.