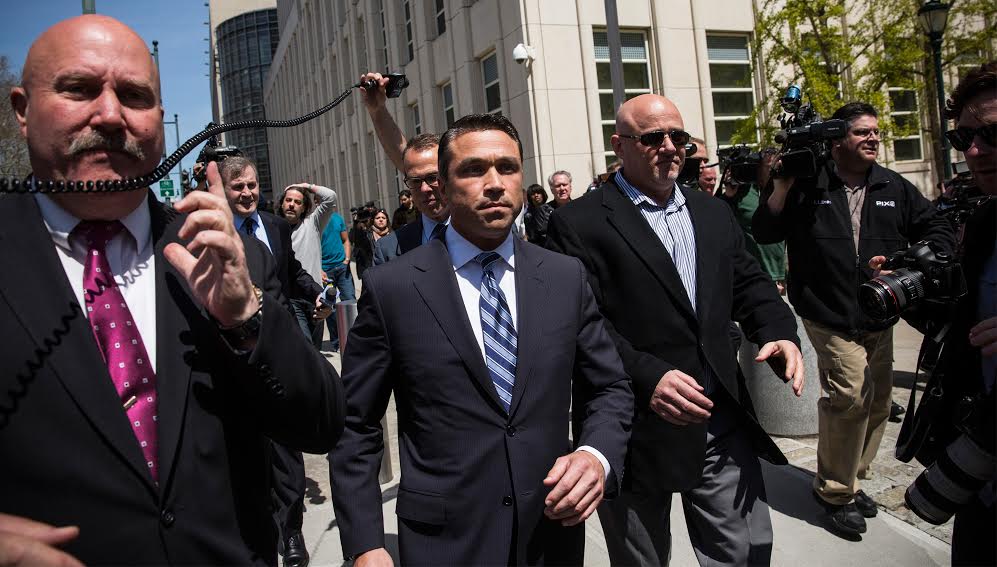 Congressman Michael Grimm pleaded not guilty this afternoon to a slew of federal charges, including mail, wire and health care fraud, filing false tax returns, perjury, obstruction of an official proceeding and hiring undocumented workers.
All of the charges relate to Healthalicious, a fast food restaurant Mr. Grimm was involved in on the Upper East Side.
"In 2007, Michael Grimm, former Marine, former FBI agent, accountant and attorney, was poised for success as a small business owner. Instead, as alleged, Grimm made the choice to go from upholding the laws to breaking it," United States Attorney Loretta Lynch said in a statement. "In so doing he turned his back on every oath, he had ever taken."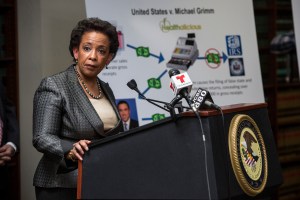 According to Ms. Lynch's office, Mr. Grimm fraudulently under-reported the wages paid to workers at the restaurant–many of whom did not have legal status in the country and were paid in cash. He also under-reported how much revenue the company was earning–allegedly concealing over $1 million in sales and wages, the office said. Mr. Grimm also allegedly lied under oath about his shady business practices.
"As a former FBI agent, Representative Grimm should understand the motto: fidelity, bravery, and integrity. Yet he broke our credo at nearly every turn. In this twenty-count indictment, Representative Grimm lived by a new motto: fraud, perjury, and obstruction," FBI Assistant Director-in-Charge George Venizelos added.
Mr. Grimm has been under federal investigation for the past two years for allegations pertaining to campaign finance fraud, which today's charges did not address. At a press conference at her office, however, Ms. Lynch made clear that her office's work was not complete.
"Obviously there is a larger investigation that is still continuing," she said.
Mr. Grimm turned himself in to federal authorities early this morning, not long before prosecutors unveiled the 20-count indictment against the city's only Republican congressman.
He pleaded not guilty to the charges at a noon arraignment. Appearing in Brooklyn federal court in a suit and blue tie, Mr. Grimm was silent as he listened to Judge Robert Levy outline the charges against him in the media-packed courtroom.
"No your honor," Mr. Grimm said when asked whether he had any questions. He was released on a $400,00 bond, and was forced to surrender his passport and any firearms.

Mr. Grimm has long maintained his innocence and on Friday his attorney accused prosecutors of waging a "politically driven vendetta against" him.
"After more than two years of investigation plagued by malicious leaks, violations of grand jury secrecy, and strong-arm tactics, the U.S. Attorney's Office has disclosed its intent to file criminal charges against Congressman Grimm," his attorney, William McGinley, said Friday.
"We are disappointed by the government's decision, but hardly surprised. From the beginning, the government has pursued a politically driven vendetta against Congressman Grimm and not an independent search for the truth. Congressman Grimm asserts his innocence of any wrongdoing.  When the dust settles, he will be vindicated," he added. "Until then, he will continue to serve his constituents with the same dedication and tenacity that has characterized his lifetime of public service as a Member of Congress, Marine Corps combat veteran, and decorated FBI Special Agent."
Read the full indictment below:
[protected-iframe id="9e4c71c20fd30504e53923712c19231c-35584880-49119065″ info="//www.scribd.com/embeds/220726016/content?start_page=1&view_mode=scroll&show_recommendations=true" width="100%" height="600″ frameborder="0″ scrolling="no"]