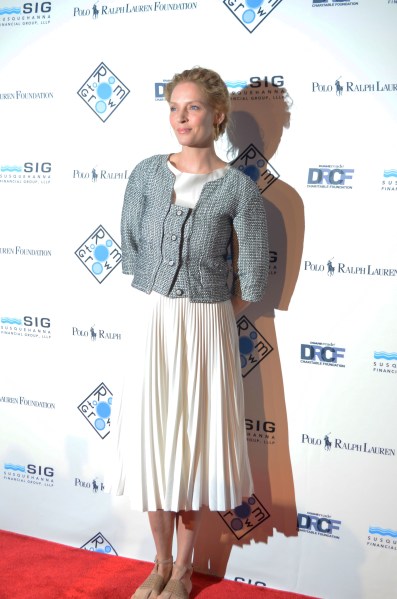 Ever wondered what it'd be like walking in Uma Thurman's shoes?
A lucky silent bidder will find out soon, as she or he brought home a signed pair of Ms. Thurman's black Ferragamos from the Room to Grow Spring Gala on Tuesday.
Together with A Beautiful Mind hottie Josh Lucas, Ms. Thurman hosted the event, which aimed to raise money for the non-profit that tries to improve the lives of babies born into poverty during their first three years of life.
"It's been 16 years and we've accomplished so much; Room to Grow really deals with problems close to home — young children suffering from poverty occurs everywhere," Ms. Thurman told the Observer after walking down the red carpet in a summery white Prada creation.
The actress known as Quentin Tarantino's muse got involved with the organization while residing in the same building as Room to Grow founder Julie Burns.
Ms. Burns, who started the non-profit in 1998, posed with her husband, filmmaker Ken Burns. Model and actress Brooke Shields and House of Cards writer Beau Willimon also joined Capitale's majestic lobby, followed by DJ of the night: Rich Medina.
"I could do this all night," Mr. Medina, dressed in a beige coat and hat, said with a smile as cameras flashed around him.
The Burns', who met at blind date in 2002 and got married 14 months later, had great expectations for the gala.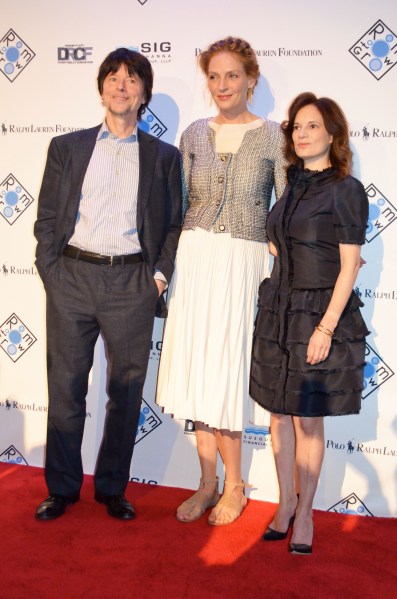 "Our goal is to break last year's record, raising more than $500,000 tonight," Mr. Burns told the Observer.
And records were broken — the 350 guests contributed to raising just over $540,000.
The live auction, hosted by Christies' Lydia Fenet, saw a family trip to Africa go for $19,000, and a "power trip" to the Oval Office including a lunch with Mr. Willimon and the House of Cards cast, go for $14,000.
But it was the personal tour to Gettysburg with Ken Burns (inspired by his award-winning documentary The Civil War) that claimed the evening's highest bid, landing at $45,000.
Guests could also make a silent bid for the original script from the "My Motherboard, Myself" episode of Sex and the City, where Miranda's mother dies. The opening bid was $400, but the market value? Priceless.