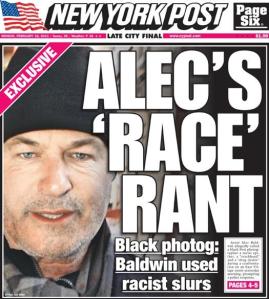 Hilaria Baldwin, a yoga instructor and wife of tabloid foe Alec, stopped by the New York Post today to do some yogic postures and spread some zen, the Post reported.
According to the tab, the visit was a surprise.
"This was just something that I thought of in spin class this morning," Ms. Baldwin told the Post about her "impromptu" visit to their newsroom.
Considering the stringent security at News Corp's New York Headquarters, it seems hard to believe it was a complete shock.
While at the Post, Ms. Baldwin did some Upward Dog on the reception desk, conveniently located in front of the Post logo. Ms. Baldwin also took the opportunity to set the record straight. The Baldwins aren't leaving New York, even though Mr. Baldwin extolled the glories of LA to New York back in February (to be fair, who wasn't talking about leaving New York for good this winter?).
"He did not say that, though, he says that there are things about LA that he appreciates, which I understand. But he never said he was moving from New York," Ms. Baldwin told the Post, about the New York mag cover story (which was by Mr. Baldwin, as told to writer Joe Hagan).
Not that Ms. Baldwin needs her husband's authorization or anything, but Mr. Baldwin did approve of what the Post termed "this nutty visit." Why, Mr. Baldwin even picked his wife up in a town car when she was done posing for members of the media that he called, in his New York magazine screed, "superfluous at best and toxic at its worst."
Considering that, according to Mr. Baldwin, the most painful moment among many painful moments last year was when the Post called him a racist after he was accused of using a racial epitaph while yelling at one their photographers (and threatening a reporter), it is notable that Ms. Baldwin randomly decided that the newspaper that recently called her husband "the Bloviator" and said the Post was his "favorite target of rage" needed some good energy.
"I just think New Yorkers work too hard and The New York Post needs more namaste," Ms. Baldwin said.
And Ms. Baldwin did accomplish something on her husband's behalf.
Where the tabloid once used some harsh adjectives to describe Mr. Baldwin, today's story described him as "her hot-headed hubby" and "the often-emotional 30 Rock star" instead of a "drama queen," "blowhard" or "bloviator."
Maybe the tabloids just need a little namaste and we will go back to the good old days that Mr. Baldwin expressed so much nostalgia for, when people complimented him and asked for autographs instead of trying to invade his privacy and snap his pictures.
He doesn't react well to that. Except when he's picking his wife up from the Post, then it's all fine.
Unless this whole stunt was an April Fool's joke. In which case, it all would sort of make sense.