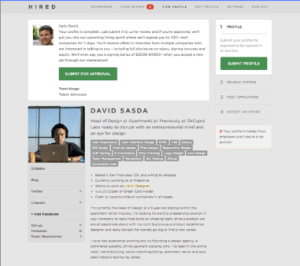 Hired, the online marketplace where companies compete to hire people with #tech skills, has just expanded from San Francisco to New York.
The company was founded in April 2012 under the name DeveloperAuction. The cofounders — all serial entrepreneurs — started the online marketplace because they'd all had trouble finding the right talent to hire for their companies in the past.
"[On] Monster you can post ads, but the quality was really low; LinkedIn gave you more access, but it was like finding a house using the Yellow Pages — you had no idea who was selling, and who had intent to switch jobs," cofounder Douglas Feirstein told Betabeat. "If we could build a transparent marketplace, we could then attract the right talent and give the employers visibility and discovery into the talent that was available."
With Hired, people looking for tech jobs can submit applications to the site, where a combination of algorithms and real-live humans determine whether they're eligible to be auctioned off before Hired's pool of companies. The decision to put an applicant through is based on his or her skill set, as well as whether or not there's popular demand for the job that person's looking to fill.
The chosen applicants are presented in weekly "batches" before the pool of hungry companies, who — all within one week — view the applicants' profiles, conduct interviews with them, and then make job offers.
"Right now, 90 percent of our candidates get  at least one offer, and most will get five to 15 offers," Mr. Feirstein said.
The company expanded to New York because "there are 5000 unfilled tech jobs in New York City at any given time," Mr. Feirstein said.
Last December, they launched a test phase in New York. Andre Charoo, general manager of Hired's New York office, said they've already seen a huge and rapid adoption — way faster than when they first launched in San Francisco.
"Generally speaking, engineers are getting hired every single day on the platform," he said. "We have hundreds of candidates that have been hired to date."
Mr. Charoo said that Hired will help New York developers find jobs at a diverse array of companies — companies they might never have even thought to apply to.
"Media companies like the New York Times or finance companies like Morgan Stanley also need engineers," he told Betabeat. "It's beyond just tech… And for the first time, we have the same pipeline that, say, Facebook has, but we can allocate that pipeline toward companies that might otherwise have not been able to convince an engineer to [join them]."