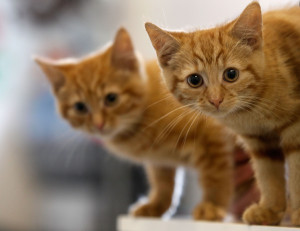 They'll welcome you with open paws.
Pet food brand Purina ONE will be opening a coffee shop with plenty of purrsonality, as it brings us America's first pop-up cat café this Thursday.
The furry initiative is set to open its doors at 168 Bowery in Nolita, the New York Post reported.
Customers will be able to sip their lattes while rubbing paws with a cute bunch of meowsayers, all of which will be available for adoption.
Feline cafes are big in Japan, where it's normal to go for coffee and a quick nuzzle, as many people are not allowed to have pets in their buildings.
The ONE Cat Café will be open only from Thursday, April 24, through Sunday, April 27.
Purina ONE's cat experts will also be present to answer questions about pet health.
"Our goal for the Cat Cafe is to create a rich, interactive environment that empowers cat owners to learn more about their cat's health and nutritional needs," Purina ONE's brand manager Brian Williams told the Post.
This sure is the purrfect corporate PR event, as we all know how New Yorkers can't say no to cats … or caffeine.