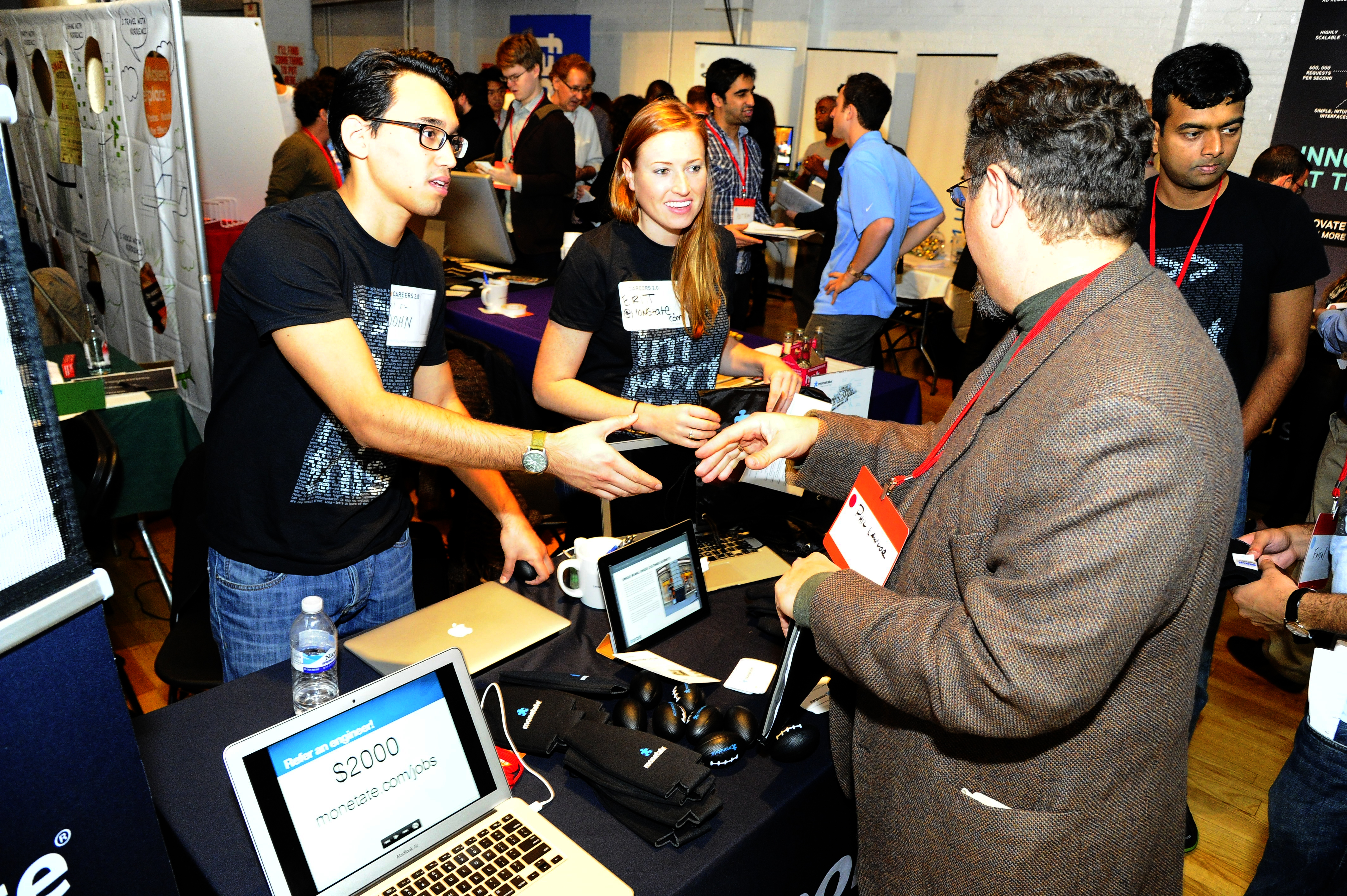 Thanks to the anything-goes nature of startup culture, all the old rules of job searching have gone out the window. It can feel like the advice your parents and professors gave you — wear a suit! bring five copies of your résumé! — is stuffy and outdated in an era when CEOs sport flip-flops and jeans.
So to nail down the dos and don'ts of securing a startup job once and for all, we headed to yesterday's Uncubed job fair. Uncubed isn't just any job fair, mind you — many of the coolest startups in town, including Seamless, BuzzFeed and Mashable — attend, looking to hire everything from programmers to marketers to salespeople. And they hand out beer and free macarons.
Here's the advice we gathered by talking to tech recruiters, engineers, cofounders and marketing pros at Uncubed.
1. Show that you're interested in a company's mission.
"It's great [to go to a job fair] because you get to meet people face to face. You get to see who's really interested in [your company] and who's just saying they are. You get a two- or three-minute pre-interview instead of going through faceless résumés." — Matt Meeker, cofounder of BarkBox
"Get to know [the company] incredibly well. Read everything you can read about them. I'm very impressed when someone can tell me things about us I wouldn't expect them to know." — Alex Lorton, cofounder at Cater2.me
"When you come and ask me for a job at BuzzFeed, you should know what BuzzFeed is. Fifty percent of the people I talked to today didn't know what BuzzFeed is." — Clem Huyghebaert, director of engineering at BuzzFeed
2. Don't stress about your degree (or lack thereof). Expertise and passion for your industry matter more.
"It doesn't matter if you have a degree or not. It doesn't matter how much experience you have in one way or another. That helps, but we're looking for really, really bright people who think a little bit differently. We will even create jobs around them." — Matt Meeker, cofounder of BarkBox
"I dropped out of high school and it's been working out really well for me. There's a lot of amazing jobs you can get without a college degree. If you're willing to learn and put in the work or time, you can acquire a lot of different jobs. Internships show [a willingness to learn], but really it's just knowing about the latest technologies, the latest methods that people are applying to solve problems. If you see that in a résumé, it stands out." — Mackenzie Kosut, engineer at Oscar
"[The hiring process has] become much more informal, but the things people dig into [in interviews] are much more narrow. You really have to have expertise." — Benjamin Vivo-Wachter, head of talent acquisition at OnDeck
"I like when someone comes to me and shows how excited they've been about former projects they've worked on. The way people talk about their experience tells a lot about who they actually are. If they're going to bitch about their coworkers and how the environment they're in is too slow, it's not a good start." — Clem Huyghebaert, director of engineering at BuzzFeed
"I want to see passion and a scrappy nature. It's not enough to just say, 'Okay, I'm gonna come in and do the five requirements of the job.' I want someone who's gonna say, 'What else can I do? How else can I help the company?'" — Alex Lorton, cofounder at Cater2.me
3. Only apply for the jobs you really want.
"Try to find companies or roles that fit you — companies that you love and want to be a part of every day. Look for a good fit." — Matt Meeker, cofounder of BarkBox
"Know yourself. Know your skill set. Understand what you're interested in and what you're looking for. Don't float around and look at things you really don't want to do." — Benjamin Vivo-Wachter, head of talent acquisition at OnDeck
4. Show that you're a go-getter who doesn't need to be baby-sat.
"We're not going to direct you. We're not a hierarchical startup with heavy-handed management. If we need you to find more customers, we'll measure that by how many customers you get and how much that costs. Go off and report back. We want really creative, smart people to do that." — Matt Meeker, cofounder of BarkBox
"It's a great time to be a programmer because you have limitless options. You can do anything you want, and you can learn it off the Internet if you really want to. Build something, and show us you built it. There's no excuse to know about it and not do it." — Yesh Yendamuri, software developer for Tailwind
5. Diverse experiences are better than one or two steady jobs.
"Parents give the worst job-hunting advice because they come from a background where you're at a company for 20 or 30 years. But considering how many tech companies there are nowadays, that model doesn't really work… People in the tech industry switch [every two or three years]. It's always important to be willing to learn, and that's probably the most important quality to look for." — Mackenzie Kosut, engineer at Oscar
"One thing that stands out is people who have side projects. They're building something on their own, volunteering somewhere. Those people do really well in our culture because a lot of what we do at Gilt has never been done before. We want people who aren't afraid to try new things. That's the biggest thing. We like to see people who have solved all kinds of challenges, who've worked for big companies, small companies. It shows they have a breadth of knowledge and can be a self-starter." — Erica Derector, senior tech recruiter at Gilt
6. If you're applying at a startup, leave the suit and tie at home.
"The last three jobs I had, I interviewed in flip-flops, a T-shirt and shorts. Smart companies know it's more about the talent somebody brings, and the cultural fit." — Mackenzie Kosut, engineer at Oscar
"I stopped wearing a suit [to interviews] and as soon as I did, I felt like all of my interviews went a million times better. For me to show up in a suit felt wrong, like I wasn't fitting in with the culture. Once I started wearing jeans and a sweater, all the interviews got better." — Alison Green, developer at Thrillist
"Be yourself. Our interviews should be fun. We respect professionalism, but we want people coming in as fun and passionate as they would be if they were having a conversation with a friend." — Erica Derector, senior tech recruiter at Gilt
7. Job fairs and meet-ups are better than applying online.
"Networking is everything. There are a lot of incredible meetups around New York City. Meet people and you'll learn about a lot of opportunities you might not find at a career fair. New York City is an amazing place with a lot of talented people. Use your location to your advantage." — Mackenzie Kosut, engineer at Oscar
"These startup fairs are amazing. The process is so frustrating [otherwise]. You're sending emails to people who don't want to hear from you. Essentially, you're interrupting people if you're not coming to these fairs. It's awesome to come here because they want to talk to you." — Jack Saulitis, Catchpoint
"We have a lot of people still getting jobs the old-fashioned way, which is getting out there and meeting people and putting a face to a piece of paper. You get a chance to go talk to people who work at the companies and see if there's a connection there. I did a program at Startup Institute and then we had our exposé. Some Thrillist people were there, and a month later I started working there." — Alison Green, developer at Thrillist
8. Use the skills you have to get employers' attention and show that you know what you're doing.
"We get tweeted at by people looking for marketing roles, and that's so smart because the people looking after the Twitter are in marketing. It's one of the ways to directly communicate with people who would be hiring you. And you just put your résumé right in front of them. It shows initiative." — Jack Saulitis, Catchpoint
"A guy who's now the head of our New York sales team sent me his résumé and we had a little back and forth. I was interested but we weren't ready for a salesperson. He took it upon himself to come into the city and get a dozen cupcakes, walk into the office and hand them to me. What impressed me about it was, his job was going to be to do just that: to walk into offices to get someone's attention. So he just showed me right there that he knew exactly waht he was supposed to be doing. I sat there with him, had the interview and wanted to hire him." — Alex Lorton, cofounder of Cater2.me
9. If all else fails, start your own company. 
"I've never looked for a job. I don't know what it's like." — Matt Meeker, cofounder of BarkBox