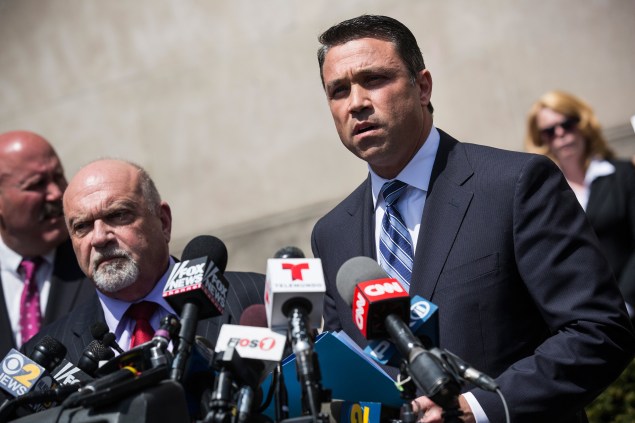 A  defiant Michael Grimm today brushed off the slew of charges against him as a "political witch hunt" and committed to running for and winning re-election despite the allegations.
"I don't abandon my posts. I didn't abandon my post when I was being fired upon in combat," the Staten Island Republican said at a press conference outside of the Brooklyn War Memorial in Cadman Plaza Park, just outside the federal courthouse where he was arraigned earlier this afternoon. "I'm not abandoning my post now."
"I will not abandon my post or the wonderful people who entrusted me to represent them. I have their backs and I know that they have mine. I will get right back to work as I always have," he continued. "On top of all that I have an election to win."
Mr. Grimm, who lightheartedly began the press conference noting the "gorgeous day in Brooklyn," further described being "relieved" by the charges, which relate to the operation of an Upper East Side health food restaurant.
Mr. Grimm has reportedly been under investigation for two years for his 2010 campaign finance practices, but the charges do not relate to the campaign.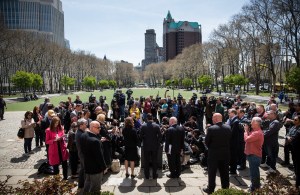 "Let me start by saying what a strange, almost ironic, surreal feeling this is. But at the same time, you know, I'm somewhat relieved. After two and a half years of … allegation after allegation after allegation, I haven't been able to fully defend myself …. … [from] absolutely shameful government leaks," said Mr. Grimm. "This political witch hunt was designed to do a couple things, but first and foremost assassinate my character and remove me from office. But today at least I get to face my accusers and I have an opportunity to see some real charges for a change."
Mr. Grimm, accused of committing tax fraud, hiring undocumented workers, and of lying to cover it up, among other charges, vowed to "fight tooth and nail until I'm fully exonerated."
Mr. Grimm, who represents a swing district containing Staten Island and parts of Brooklyn, faces a competitive campaign challenge from Democrat Domenic Recchia Jr.
His lawyer, Elizabeth Kase, also released the following statement:
[scribd id=220761330 key=key-xjzfzfg97yeoksnvwt5 mode=scroll]