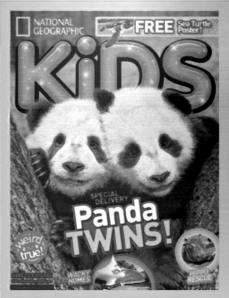 A new kooky world record has been set, and no, it doesn't have anything to do with online Secret Santa.
This National Geographic Kids magazine cover, created by IBM, now holds the Guinness record for the world's smallest magazine cover, Engadget reports. The tiny panda-filled picture measures 11 x 14 micrometers; in other words, it's 2,000 times smaller than a grain of salt.
The microscopic magazine cover was unveiled at the USA Science & Engineering Festival in Washington, D.C.
IBM explained the process of creating the minuscule magazine cover on Flickr:
"To create the record-setting cover, IBM scientists invented a tiny 'chisel' with a heatable silicon tip 100,000 times smaller than a sharpened pencil point. Using this nano-sized tip, which creates patterns and structures on a microscopic scale, scientists etched the magazine cover in less than two minutes onto a polymer, the same substance which creates plastic."
IBM also reportedly thinks the technology could be used to make virtually invisible, nano-sized security tags for quantum computers, which sounds a lot fancier and more high-tech — though not quite as adorable — as images of pandas. Engadget also reports that IBM has licensed the technology to SwissLitho, a company that sells hardware to researchers.
Here's a video describing the technology:
[youtube http://www.youtube.com/watch?v=ucGbmsg5FvA&w=560&h=315]