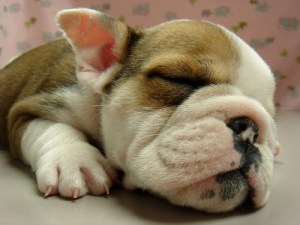 For years, New York has been on the vanguard when it comes to pioneering new luxury condo and rental amenities—from the now-standard gyms and ubiquitous barbecue pits to rooftop putting greens and indoor climbing walls. We've even broken new ground in partnerships with super-posh department stores, facilitating interior decorating and the delivery of designer shoes.
Meanwhile, Washington D.C. has lagged far behind, New York's slightly dowdy cousin, its buttoned-up workaholic culture seemingly at odds with the kind of catering-to-your-every-whim decadence that New York has perfected. It is, after all, a place where some of the city's most powerful residents live in shared houses with sheets over the windows and a freezer that hasn't worked in years.
But the nation's capital has finally surpassed New York by offering the one luxury that almost everyone wants, but relatively few people have: a puppy. Yes, a fancy rental building in Northeast D.C. has looked deep into the hearts of wealthy urban dwellers everywhere and seen what they desire above all else—a six-month-old miniature English bulldog, The Washington Post reports.
"I was sitting at a cafe one day, and we saw a puppy come in and everyone just stopped in their tracks and came alive," Holli Beckman, a vice president at the rental company told the newspaper. "And it just dawned on me that everyone loves doggies and babies, right?"
Well, everyone loves dogs, anyway.
The dog, to be named Emmy, will be communally available to residents who want to take her for a stroll or snuggle. No word on what or how many tasks will fall to the unlucky concierge in the not-unlikely event that snuggling proves much more popular than 6 a.m. walks.
Nonetheless, New York should think about stepping it up. Doggie spas and doggie daycare are all good and well, as are pools and massage rooms, basketball courts and shared wine cellars, but a communal puppy is on another level entirely. Not unlike having a signature cupcake delivered to your apartment on your birthday, another amenity Washington D.C. rentals has, as far as we know, pioneered. A pony and a bouncy castle can't be far behind.
Basically, Washington D.C.'s new dominance in the amenities race all comes down to their weaker housing market: there's been a surplus of luxury rentals of late, and developers are eager to find new ways of distinguishing themselves and their buildings. Whereas New York, with its perpetually low vacancy rate and an overcharged sales market, seems to have become a little lazy. It appears to be something of a tortoise and hare situation.
We can't be the first one to have noticed that more and more of the luxury amenities being offered by New York buildings fall into the scope of services that can be purchased from affiliated professionals rather than actual, in-house conveniences. Sure, there's a Tribeca condo with a basement playroom designed by educators from the 92nd Street Y, and that sky lounge at One MiMA tower, as well as a Bushwick building with shuffleboard and a vintage pinball arcade, but as we've pointed out in the past, special partnerships guaranteeing home delivery and personal shoppers only secure residents the same rights and privileges as any well-heeled client. In Manhattan, where money is king, almost any purveyor of good and services can be persuaded to come to you.
It's time for New York to reclaim its crown. Bring on the puppies.