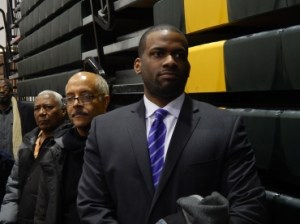 The Northeast Regional Council of Carpenters (NRCC) put $250,000 into the Newark mayor's race last week to assist the candidacy of state Assistant Attorney General Shavar Jeffries.
The Carpenters contributed their money to the independent expenditure that produced Jeffries' first campaign ad of the season, which features U.S. Rep. Donald Payne, Jr. (D-10).
Having backed former mayoral candidate Anibal Ramos, the Building Trades Organization has not formally endorsed a candidate in the two-man May 13th mayoral contest between Jeffries and South Ward Councilman Ras Baraka.
But Ramos – a longtime Carpenters ally – backs Jeffries, and is running with the Jeffries ticket.