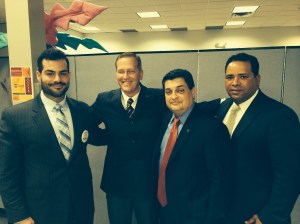 NEWARK – More than 60 local residents came in from the rain on Monday night for an East Ward council candidates' forum, just 35 days before the May municipal elections in Newark. At one point, it was standing room only as the voters and candidates went back and forth on the issues inside the Christian Community Presbyterian Church on McWhorter Street in Newark's Ironbound neighborhood.
But up front at the candidates' table, there was one chair noticeably empty.
A crowded field has emerged to take on incumbent East Ward Councilman Augusto Amador. His rivals include Luis Correia, a legislative aide to Councilman-at-Large John Sharpe James; Omar Nieves, a retired Newark police officer and businessman; longtime Ironbound politico Jimmy Parrillo and political neophyte Jonathan Seabra.
While Parrillo was not present, Correia, Nieves and Seabra were all at the forum, along with at-large council candidate Cesar Vizcaino.
Amador, a 16-year incumbent, was also not present.
In a phone interview after the candidates' forum, Amador told PolitickerNJ.com that he was unable to attend the event because he was helping Newark mayoral candidate Shavar Jeffries campaign at a Portuguese-American social club in the Ironbound. Amador is on Jeffries' slate. None of the other four East Ward council candidates are on the slate of Jeffries' rival in the mayoral race, Ras Baraka. They are all running as independents.
"[Some social club members] pressured me to be there with [Jeffries]," said Amador, who noted that he had initially told the organizers of the forum that he would have been present. "Mr. Jeffries indicated that I should be there with him because he didn't know anybody and it would be appropriate for me to introduce him."
One critical issue that was the focus of much of Monday's candidates' forum was the future of Newark's public schools, an educational issue that has turned political in the run-up to the Newark municipal elections.
Newark School Superintendent Cami Anderson has become the central polarizing figure in the debate over the future of Newark's schools. She was appointed to head the state-run Newark school district, New Jersey's largest, by Gov. Chris Christie in 2011. The governor publicly stated in September 2013 that he plans to reappoint her, and that he did not care about community criticism.
Newark's schools were placed under state control in 1994.
The One Newark school reorganization plan, announced by Anderson in December, includes the expansion of charter schools, which already serve approximately 20 percent of the city's students, as well as the closure or consolidation of certain public schools.
Anderson's name was repeatedly referenced by voters and candidates at the forum, particularly when a local resident asked the East Ward council candidates what they would do to help restore local control in Newark's schools.
"[There was] a policy that all children will learn. Cami Anderson has a policy that says all children will leave," Vizcaino said. "You have a community screaming and those voices aren't being heard."
"We can go down to Trenton to protest. But you know what that gets us? Nothing," Nieves said. "This ends one way. We have to take the state to federal court. We have to sue the state for local control back."
"I'm for reform. What we've done for many years simply does not work," said Amador in a phone interview. "Superintendent Anderson has been arrogant. She doesn't have the support of the parents or of the local elected officials. This cannot be tolerated forever. I am for her removal.
"Our neighborhood public schools that are performing well, for example Lafayette Street, Wilson Avenue, Oliver Street and Ann Street schools, should not be touched by this One Newark [plan]," Amador added. "That's my fear. Those schools, which are performing well, might be affected by this plan that [Anderson] is implementing without the support of the parents and the local officials."
While Anderson was figuratively in the room at the Monday night East Ward candidates' forum, the fact that Amador was literally not there was strongly criticized by some candidates.
"There is always time for community meetings. The community is here," Correia said. "It's [Amador's] personal choice to be unprofessional and not be here today."
"I cannot be accountable for anybody else. I can only be accountable for myself," Seabra said. "I thank everyone for being up here with me today and answering the questions of the community."
Amador noted that he will appear at the televised East Ward council candidates' debate scheduled for later this month.
"The level of motivation that I had in the past for running for office is the same level of motivation that I have today," Amador said. "I feel totally confident that regardless of the number of candidates or their value, the residents will re-elect me solidly. I will attend the [cable television] forum. That is what I have done in the past, once every four years."