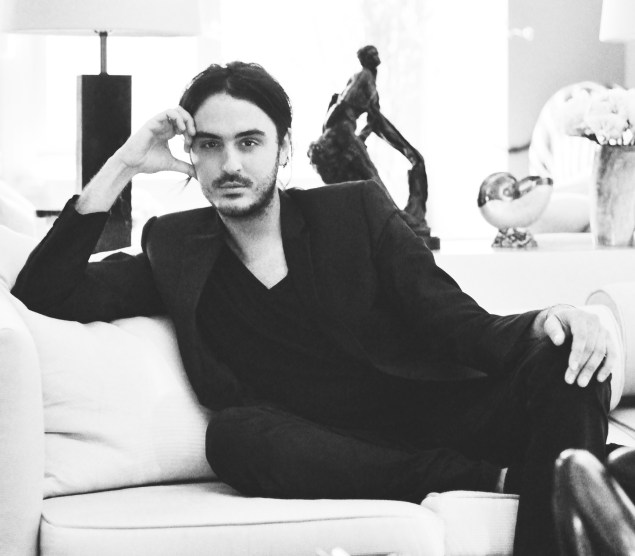 ‪If interior designer Ryan Korban's name sounds familiar it's because he's super well known in elite design circles. His is a name that filters down slowly so that you might walk round several of his store projects before realizing you absolutely love their looks. Instead of the full-on, solid gold luxury of say, Peter Marino, Mr Korban offers a more, as he puts it, 'edited' version of all-out luxury. Alongside designing stores for Balenciaga, Alexander Wang and Diesel, plus homes for James Franco and Jessica Stam, Mr Korban is adding author to his resume with his new book, Ryan Korban: Luxury Redefined , out today. The Observer sat down with him to get the inside scoop on the book.
Can you tell us about your first book and key anchor points of your design ethos? 
The key points of my design aesthetic are Sex, Romance, and Fantasy. They are the three distinct ideas that have really been explored in this book and I have chosen photographs to reflect those ideas.
How does New York inspire you? 
How does New York not inspire me? There is so much condensed into such a small city that it is easy to be inspired by every block. I love the retail spaces, the hotels, the skyscrapers, the brown stones, the parks, the bars, and the restaurants, even the Westside highway.
What's the first thing you think of when you walk into a place you're going to redefine?
What color am I going to paint the walls and what color am I going to stain the floors. I think about that even before floorplan or construction. Without those ideas in place, I can't really focus on anything else.
This is your first book, what was the inspiration for it?
I wanted to create a visual journey through my unconventional approach to interior design.
Who is your target audience?
It's for the person who is excited about design but does not have a traditional approach to it, or for someone with lots of experience with design who is looking for something less traditional. The main goal is to make interiors feel like fun.
The book features your good friends Vanessa and Victoria Traina, Alexander Wang and Joseph Altuzarra who you went to Parsons with. How have they inspired your design?
I am inspired most by the people around me. They are inherently the ones I owe my taste to. Victoria is without a doubt the biggest aesthetic inspiration I have known. (Ms Traina wrote the foreword to the book.)
Were they the first to read the book?
They were the first to receive a copy, so yes I know they were the first to look at it!
You've moved many times living in NYC, how have you decided on your neighborhoods?
Funny you should ask!! After the East Village, West Village, Tribeca, Soho, and the Upper East Side I have finally realized I am in love with Midtown. What's better than being in the center of the city!
What are your favourite interior stores?
Flair NY, Phoenix Gallery, Area ID, Creel and Gow, and J. Robert Scott.
What design trend bugs you the most?
None really. I have really loved everything design-wise at one point or another.
What should we be hanging on our walls?
Fabulous mirrors and sconces. If the budget is there for art, I would have to say John Currin.
How do you see design now as opposed to when you began?
The word 'edit' comes up a lot in my mind. I started off thinking more is more, and while that can be a fun approach, it really is all about the editing of objects.
How do you maintain your voice as a designer?
Hmm, that can be difficult. You choose your projects wisely. You work hard to become fortunate enough to work on projects where you know your voice will be heard. It all really stems from trust. My entire career is a practice in getting people to trust my taste. It's something I work really hard for daily.
Ryan Korban: Luxury Redefined (Harper Collins)