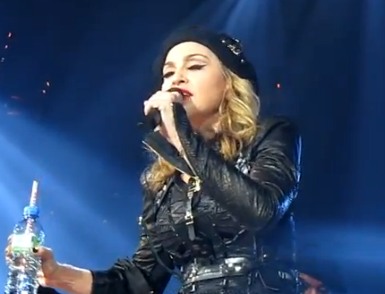 Madonna is singing 'give me all your luvin,' Brooklyn.
The pop star purchased the top three floors of a Cheap Storage building in Bushwick with many plans for renovation.
Madonna will overhaul the building at 49 Wycoff Ave completely, transforming it for both personal and neighborhood use.
A latex clothing company called "Wrap Me" along with space for a biannual children's macrame workshop and, of course, a dance studio, will be among the many surprises inside, according to Bushwick Daily.
There's also a space to be co-owned by Brangelina — a biweekly reading room for adoptive parents of non-american children.
Rumored to top it off is a rooftop raw vegan farm-to-table restaurant said to feature a bar mitzvah room and even miniature farm animals.
"I am very excited to be a part of the burgeoning artistic community and I hope to continue to inspire the people in Bushwick and around the globe as well," Madonna told Bushwick Daily.
Hopefully Brooklynites find macrame as inspiring as Madonna apparently does.