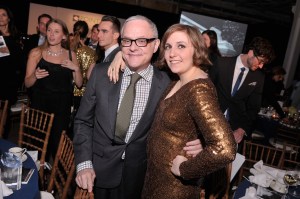 The Point Foundation, which provides scholarships for LGBTQ youth, honored Lena Dunham and TV Producer Dr. Nael Baer at its gala at the New York Public Library and raised $620,000 for the nation's largest LGBTQ scholarship-granting organization.
The high school dropout rate is three times higher for LGBTQ students than the national average, and many don't consider attending college. A full scholarship to an Ivy League School can help change that.
And, apparently, so can Lena Dunham, who wore a long-sleeved, floor length copper-colored sequin gown, and offered, "I've always felt a very strong connection to members of the LGBTQ, Z, X, Y community. It was a huge disappointment for me when I came of age and realized I was sexually attracted to men. So when my sister came out, I thought, 'Thank God someone in this family can truly represent my beliefs.'"
The room was filled with a quinquagenarian crowd in suits, peppered with younger gay gentleman, a smattering of Point Scholarship recipients, and the organization's West Coast Program Director Alan Uphold.
"The gay community seems like a big, fancy party," he told us, "but you have kids who say, 'My dad beat me up,' or, 'My mother said get the fuck out,' and we have to give these kids the ability to go to school and change the world, even if they were told by their parents that they're nothing."
Michael Urie opened up the ceremony by suggesting that the younger folks in the crowd take a walk around to see what books actually look like.
"They're like web pages, but thicker. It's like Twitter, with longer Tweets," he said.
Mr. Urie told the Transom that he's been a long-time supporter of foundation because it's a great opportunity to "help LGBTQ kids get some dough."
"We've come a long way, but there's still so many places where its not cool," he said. "So, we're coming together to fund them. I wish this was around when I was a kid. I had student loans until season two of Ugly Betty."
Kinky Boots star Billy Porter, sporting a bow tie, explained he was there because, "I'm black, I'm gay, and I'm out."
"Things are changing for kids, but they can afford to change more," he said.
Broadway singer Telly Leung took the stage to perform a crooner-style mash up of "I Am Who I Am" and Whitney's Houston's "I Have Nothing," for which a piano player seemed to appear out of nowhere just like it did during Mr. Leung's stint on Glee. (Later, Uzo Aduba, better known as "Crazy Eyes" from Orange is the New Black, ushered the pianist back on stage and sang a rendition of "Don't Rain on my Parade.")
Later, Girls star Andy Rannells appeared to introduce Lena Dunham. He sang Ms. Dunham's praises and cued footage of the show, though the reel didn't really feature any uplifting LGBTQ moments.
Ms. Dunham, clearly the night's grand finale, received an immediate standing ovation. She didn't waste any time thanking Mr. Rannells, who she referred to as her best friend, among other things.
"He's my work husband. That's an annoying phrase that rude, ignorant fag hags use," she said, receiving uproarious laughter and whooping. "I don't want to propagate stereotypes, but gay men clean up real good, which is probably why I have dated so many of them. I wish I had met some of you before you found your truth."