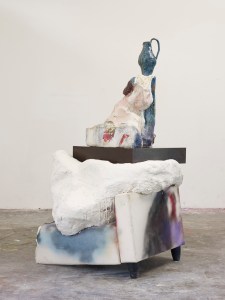 The Portland-based artist Jessica Jackson Hutchins has joined Marianne Boesky Gallery, the gallery told Gallerist yesterday.
You probably recognize Ms. Hutchins' work—often ceramic and domestic, sculptures, paintings, installations and collages—from her shows at Laurel Gitlen in New York, and from the 2010 Whitney Biennial, which was where Ms. Boesky said Ms. Hutchins landed properly on her radar.
"We became friendly around that same time through artists we knew in common," Ms. Boesky wrote in an e-mail. "From there, Jessica participated in two of our group exhibitions Uptown (2011, 2013) where, again, she made fantastic works—one, a hammock sculpture for the backyard. I'm thrilled to have her in the program."
This spring Ms. Hutchins will have shows at the Aldrich Contemporary Art Museum in Connecticut and the High Line. She is married to Pavement frontman Stephen Malkmus.