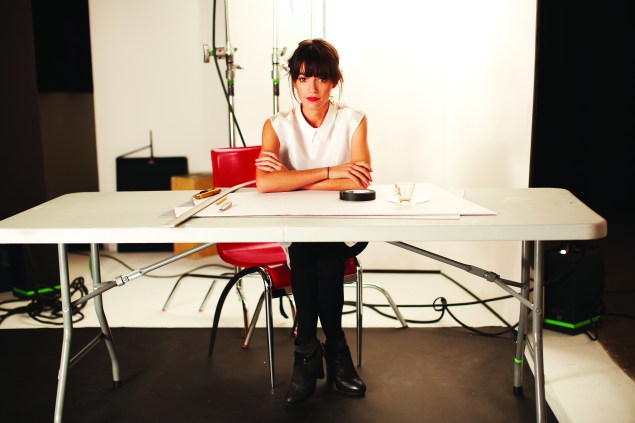 A rule of thumb for art school grads: If someone offers you a job that's even remotely decent, you take it. So when Jessica Walsh, fresh out of the Rhode Island School of Design, was offered a graphic design job with Apple for around $100,000 per year, the answer would have been an immediate "yes"—from anyone else but her.
"I would've been making a lot of money at Apple, and it would've been a safe bet for a career," Ms. Walsh reflects. "But I also would've only been doing one thing: working on a specific section of their website or a specific area of branding. I wanted variety and challenge, not safety."
Instead, Ms. Walsh took a three-month internship with Paula Scher, a principal at the design firm Pentagram and one of the pillars of the industry. Ms. Scher was initially impressed by Ms. Walsh's "incredible photography skills" and soon after by her follow-through. "Of course, she wasn't the Jessica Walsh back then," said Ms. Scher, hinting at the frisson of demi-celebrity that surrounds Ms. Walsh, now one of her field's most visible rising stars and a fixture on all of those under-30 lists.
Her career wasn't the only thing Ms. Walsh was precocious about. She had begun coding and designing websites at 11, eventually creating an html site that offered free graphic templates for other kids interested in design. She generated revenue by posting GoogleAds on her site.
"She was the talented, standout intern," Ms. Scher said. "Jessica had energy, determination and great skill, and all three of those things are needed for success."
What's more, in a generation renowned and sometimes criticized for its obsession with personal branding, the Jessica Walsh that Ms. Scher referred to is among her industry's most adept practitioners. Her recent "40 Days of Dating" blog, which attracted more than 5 million unique visitors and landed her on the Today show, is a prime example.
The conceit of "40 Days" is that Ms. Walsh and her good friend Tim Goodman, also a designer, decided to date for 40 days to see if they could fall in love. The two established rules for the experiment—e.g., they had to see each other every day, had to go on three dates per week—and answered the same set of questions at the end of each day to document the development of the relationship from both sides.
The blog was released six months after the 40-day experiment took place, giving the duo plenty of time to make the site as sharp, slick and appealing for the viewer as possible. In a sense, they were trying to design love.
Throughout the experiment, Ms. Walsh granted the audience open access to her emotions, sex life and romantic past, creating a collision of identities in which Manhattanite 'it" girl meets small-town ingénue.
By day, she was the career powerhouse who traversed New York City for photo shoots and art openings; by night, she was a sensitive girl who sat at home in her P.J.s and mused about true love.
Not everyone bought it. Gawker's Defamer.com labeled the duo "insufferable," while Jezebel.com ran an article titled "40 Days of Dating Update: Couple Still Very Annoying" when the twosome appeared on the Today show. Within the design world, charges were leveled that Ms. Walsh and Mr. Goodman "sold out" and let themselves overshadow their clients. As one Jezebel commenter wrote, "As an NYC-based designer who knew of these two based on their work and prominence in the field, I've been eye-rolling this project since it's debut, because it reeked of fame-whoring from the start. (Am I the only one?)"
Ms. Walsh said she accepts criticism as the artist's lot. "I can't say I don't have an idea of what I want my audience to think or feel when they see my work," she said. "[But] I like to think of my work as a space to experiment, and part of that experiment is what the audience gets out of it. If they see what I intended in a piece, then great, but if they get something else out of it, then that's fine, too."
In 2011, she crossed paths with another titan of personal branding who would have a major impact on her career: her future business partner, Stefan Sagmeister. An Austrian native, Mr. Sagmeister had clients including Lou Reed, the Rolling Stones, David Byrne, HBO and the Guggenheim Museum.
"When I first met Jessica three years ago, I did not plan to hire anybody," he recounts. "But I was immediately impressed by her [and] found myself offering her a job."
As a designer in Sagmeister's studio, Ms. Walsh worked on projects including a kinetic billboard for Levi's and a rebranding campaign for Aizone. "She could come up with excellent ideas, knew how to execute them formally and stylistically and, just as important, had the wherewithal to transform them into reality," he said.
At 25, after working under Mr. Sagmeister for two years and steadily cultivating a reputation of her own, Ms. Walsh was thinking about bigger things. Aware of her readiness to move on, Mr. Sagmeister made her a partner. "I knew and suspected that someone as talented and ambitious as her would ultimately want to try it on her own," he said.
To make her debut under the newly founded Sagmeister & Walsh, the firm released a simple photo of the duo standing side by side before a white wall in their studio naked—as in no-holds-barred, full frontal. (Hang on, the article's almost done—you can Google it later.)
In contrast to the brazen sensibility espoused by Sagmeister & Walsh, the firm's Chelsea office is curiously inconspicuous. On the glass front door is a simple, black ampersand, an ode to their partnership. Inside, a handful of boyish, fray-haired designers toil before their monitors to the even, upbeat meter of the kicky synth-pop coming from the stereo. Just about every paintable surface is bright white, and the titles in the bookshelves are color-coded from black-to-white at the top all the way through ROYGBIV to the floor.
Ms. Walsh, 27, sits at a desk in the corner of the studio, fixated on two large Macintosh monitors revealing packaging prototypes. The designers use little black pillows scattered around the studio as cushions for their white office chairs, and their distribution seems vaguely hierarchical—a few of the designers have only one, while others have two or three. Ms. Walsh has four, stacked high in a kind of plush, velvet throne.
When she's not going to Brooklyn for photo shoots or traveling abroad to deliver lectures on creativity and design, Ms. Walsh is in the studio for up to 10 hours per day. She's currently working on rebranding the Jewish Museum of New York and designing a line of sunglasses for Colab Eyewear.
"One week, I get to work on an ad campaign for a luxury department store, and the next week, I'm designing a logo for a famous rapper," she said. "That's what I wanted in a career."
And while the initial experiment is long over, "40 Days of Dating" is still an open project. Last fall, before the blog had been released in its entirety, Warner Bros. won an auction for movie rights, and the script is underway. Meanwhile, Ms. Walsh said she has "met up with many celebrities who were interested in playing [her] part," but she'd prefer not "to name drop out of respect for their privacy." (Is Zooey Deschanel free?)
For those who are itching to see more of Ms. Walsh and Mr. Goodman, 40 Days, the book, is in its final stages of development. "We had thousands of fans who wrote to us wanting to know what happened after the experiment ended," Ms. Walsh said. "So the book will essentially be a continuation of the blog."
It will include diary entries from Ms. Walsh and Mr. Goodman about what happened after the experiment ended, along with a NYC dating map, artwork postcards and other gimmickry. Ms. Walsh also reports that the duo have started work on a new social experiment, which they plan to release later this year.
She did not reveal any details, but it won't be a wedding. Only a few months after the blog was released, Ms. Walsh met Zak Mulligan, a cinematographer to whom she's now engaged.
"After '40 Days of Dating,' I was in one of the best places of my life," Ms. Walsh said. "The experiment helped me realize I just needed to focus on myself—my own happiness and well being. … As soon as I stopped looking for love, I met Zak."
Even Jessica Walsh can't plan everything in life.