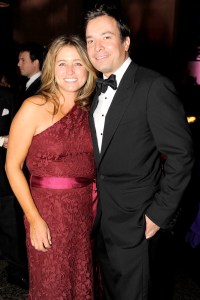 The late night ratings aren't the only thing that perpetually-fresh faced comedian Jimmy Fallon is dominating these days. The freshly-minted Tonight Show host is toasting his early success by expanding his footprint at 34 Gramcery Park East, the red-brick co-op building where he already owns three units. Sources told the Observer that Mr. Fallon and his producer wife Nancy Juvonen have closed on a top-floor four-bedroom for $1.35 million with the intention of building a triplex.
The late night host, whose blend of fan-boy enthusiasm, musical chops and just-plain silliness (egg Russian roulette, anyone?) have apparently endeared him to the entire word, has seen such stunning early success that he reportedly inspired late-night rival David Letterman to announce his retirement. "If Fallon weren't so hot, he might have stuck around longer," a source told Fox.
Now Mr. Fallon is commemorating his ascent quite literally, with a move to the top of the building—the mark of a true New Yorker who understands that no career achievement is complete without a corresponding upgrade in real estate. Indeed, Mr. Fallon is no stranger to the real estate market, having carved out a nice duplex for himself by snapping up a $1.35 million two-bedroom in 2010 to complement the spread he'd amassed over the years. (The former SNL-star first bought into the building in 2002, starting out with a $850,000 one-bedroom, which he augmented with a three-bedroom down the hall that he paid $1.5 million for 2004. He briefly considered moving on, listing the pair for $3.75 million in 2006, but then quickly reversed course, yanking the apartment from the market.)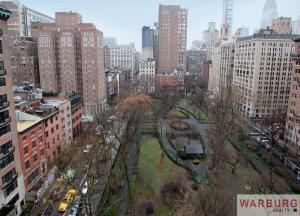 His experience showed in this transaction, in which he acted like a real pro. The apartment was listed with Warburg broker Judith Thorn for little more than a month when Mr. Fallon inked a contract—with a nice little discount on the $1.57 million asking price.
Ms. Thorn declined to comment on the sale, but sources told us that the apartment "is a wreck" and will need to be gut-renovated. A state that the unit's single bathroom, dearth of listing photos and "needs work!" warning attest to.
"I don't think there will be a piece of wood left untouched in that apartment," said one broker with knowledge of the apartment. The unit, part of an estate that was left as a charitable donation to St. Lawrence University in 2010 belonged to the same owner for decades, according to a source.
The apartment's less-than-mint condition, however, was likely not a huge concern for Mr. Fallon and Ms. Juvonen, given that styling a triplex from their existing duplex would no doubt have required an extensive renovation anyway. And, as befits a man known for his seemingly unshakeable down-to-earthness, the apartment may be on the top floor, but it is most definitely not a penthouse, according to sources, with ceilings that are only eight feet high. Most likely the space was originally used as servants' quarters. Built in 1883, when live-in help was considered a necessity even for apartment-dwellers, 34 Gramercy is arguably the city's oldest co-op. Over the years, it has hosted many other celebrities, among them James Cagney and "wicked witch" Margaret Hamilton.
And what the apartment lacks in polish, it makes up for with exposures to the North, West and South, yielding a stunning view of Gramercy Park. Best of all, unlike the backdrop of the Tonight Show, this one is real.