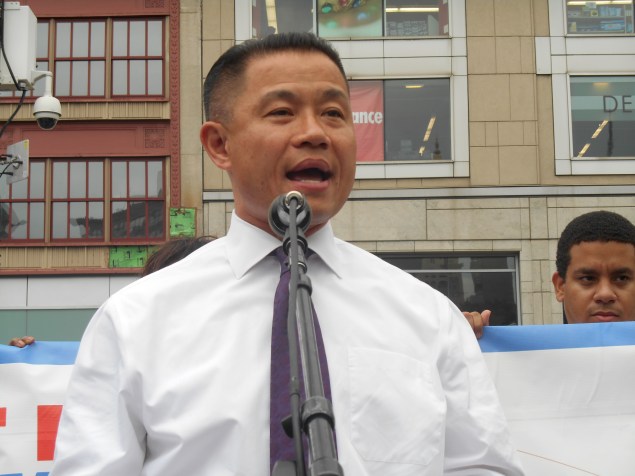 John Liu is mulling a run against State Senator Tony Avella, three sources familiar with Mr. Liu's plans told the Observer this afternoon.
Mr. Liu, the former city comptroller and mayoral candidate, is in active discussions with the Queens Democratic Party about a primary challenge against Mr. Avella, a northeast Queens lawmaker who recently defected to a breakaway Democratic faction that leads the chamber with state Republicans. Congressman Joe Crowley, the chair of the Queens Democratic machine, is personally pushing Mr. Liu to run, party sources said.
"Crowley is definitely courting him," one source said. "They want him to carry the water of county. But if John Liu runs, it will be because John wants to, not because Crowley wants him to. They're trying to make the case it's about John and not knocking out Tony Avella."
Queens Democrats are optimistic that they can convince Mr. Liu to take the plunge against Mr. Avella, who angered party loyalists earlier this year when he abandoned the mainline Democrats and joined the Independent Democratic Conference. The Queens Democratic Party is closely aligned with the Senate Democrats' campaign efforts.
Mr. Liu knocked Mr. Avella in March for deserting the Democratic conference and sources in the district say the two pols, who used to represent neighboring City Council districts, do not share warm relations.
Mr. Liu's entry into the race is nevertheless far from guaranteed. If he prevails–no easy feat in a district where Mr. Avella is relatively popular–he would likely enter the State Senate in the minority, earning lower pay than he did as city comptroller. Mr. Liu also flirted with running for Congress this year against two incumbents, but ultimately sat out both races.
Mr. Liu's campaign for mayor flopped after the city's campaign finance board voted to withhold millions of dollars in public matching funds following allegations of campaign finance fraud. While Mr. Liu was never accused of any personal wrongdoing, his campaign treasurer and a top fund-raiser were convicted in connection to the alleged scheme.
Mr. Liu and Mr. Avella did not immediately return requests for comments.
This story has been updated to reflect that Mr. Liu's campaign treasurer and top fund-raiser were convicted in connection with the alleged straw donor scheme, not just arrested.