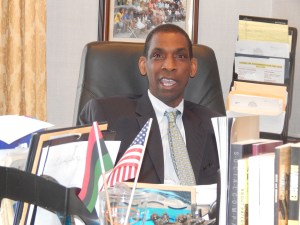 PATERSON – Following the protest, on the second floor of City Hall, a tall and familiar figure awaited members of the media with replicas of the original U.S. Consitution, Declaration of Independence and complimentary quill pens.
"This ain't England, we don't transfer the reins of power in Paterson," said Mayor Jeff Jones, whose political rival had just endorsed Council President Andre Sayegh in the May 13th race for mayor in the face of a full-throated potest from other candidates' surrogates.
Fingering the Constitution, Jones celebrated what he said was citizens' First Amendment right to free speech.
"The one consistent in 20 years has been Bill Pascrell," said Jones, seated at his desk in the mayor's office. "If those alleged powerbrokers have power, why have they waited so long? They should have delivered – he should have delivered when he was here."
Pascrell served as mayor in the early and mid 1990s.
Sayegh can stand with Pascrell and Passaic County Democratic chairman John Currie.
"We stand with Alexaander Hamilton, Martin Luther King, Jr., and more recently Obama," said the mayor.
PolitickerNJ asked Jones how he can withstand the machinery of Sayegh – and former Mayor Jose "Joey" Torres, whose supporters appeared to dominate the protest of Sayegh's press event – when the mayor raised just $2,000 in the last ELEC period.
"My people are suffering," Jones said. "Raising campaign money does not alleviate suffering. I raise what I need. I got my signs and I got my walking money. What else do I need? A person who's starving and unemployed who walks by a $3,000 sign doesn't feel any better."