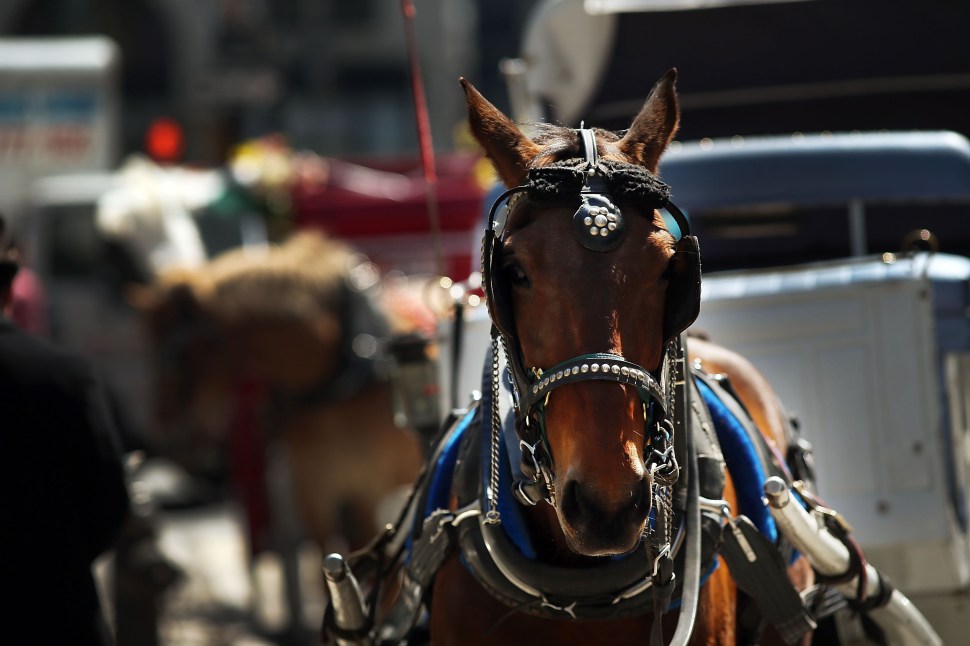 As a lifelong New Yorker, I must admit I have never thought much about the horses that hover around Central Park in carriages. While I have taken rides with my kids, family visiting from out of town and others, it just ain't that high on the priority list. That remained true until I walked outside my building the other day and saw PETA-types protesting my neighbor Liam Neeson. As the horse carriage issue has exploded into the national news arena, I recognize its importance. Mr. Neeson has spoken persuasively of the 400 jobs that would be lost if the 200 horses were removed, and wrote in a New York Times op-ed:
"I can appreciate a happy and well-cared-for horse when I see one. It has been my experience, always, that horses, much like humans, are at their happiest and healthiest when working. Horses have been pulling from the beginning of time. It is what they have been bred to do."
Now, it seems as though Mayor Bill de Blasio is backing down from his vow to shut down the horse-drawn carriages. While a poll said that more than 60% of New Yorkers wanted the horses kept as is, other media outlets are all over the issue – with people pro and con, it's a major source of discussion.
The debate over this relatively minor issue is precisely the importance. I hope earnestly that this campaign continues. Let de Blasio spend time focused on this, and keep his hands out of New Yorkers' pocketbooks. Let local government debate ad nauseam if horses are meant to be working or should relax. Anything to keep the mayor from fighting for tax raises and other parts of his anti-business "progressive vision." Protestors: Please come back and make more noise. Keep Mr. de Blasio focused on this trivial issue.
Ronn Torossian is CEO of 5WPR, one of the 25 largest PR firms in America. He lives in the same Lincoln Center condo as Mr. Neeson.