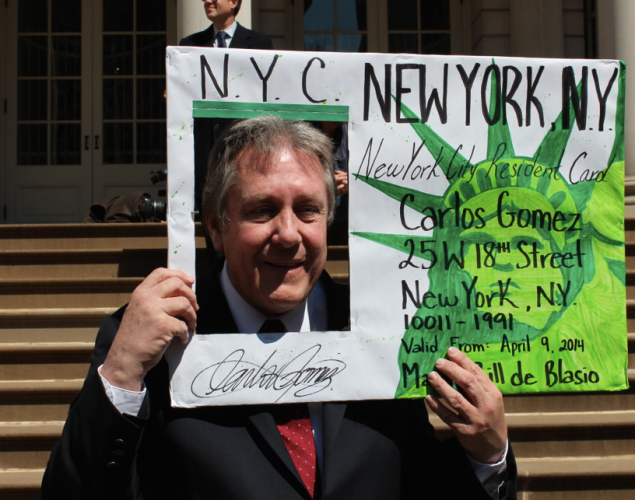 Council Speaker Melissa Mark-Viverito, eager to push a bill creating city identification cards accessible to undocumented immigrants, is rolling out endorsements from a list of left-leaning advocacy groups supporting the measure.
The groups span multiple fields of advocacy, including not only immigrants' rights, but homelessness, LGBT, health care and progressive policy issues.
"A photo ID is required in so many aspects of our daily lives, but for homeless New Yorkers it is often too difficult or impossible to obtain. The Council's Municipal ID proposal would, for the first time, help our neighbors without a permanent home obtain an identification card that is often a key for turning their lives around," Mary Brosnahan, the president of Coalition for the Homeless, declared in a statement.
"In particular, the proposal to allow people to self-designate their gender would be particularly helpful to members of the LGBT community and would clear away many of the hurdles transgender New Yorkers face when it comes to legal documents that reflect their true identities," added Empire State Pride Agenda's executive director, Nathan Schaefer.
The legislation, strongly backed by Mayor Bill de Blasio and introduced by Councilmen Carlos Menchaca and Danny Dromm yesterday, seems likely to pass, but Ms. Mark-Viverito and other advocates want to add momentum to that sense of inevitability. Congresswoman Yvette Clarke also announced her support this morning in a statement released by the speaker's office.
Only one major critic–Republican State Senator Greg Ball, who represents the Hudson Valley–has publicly lambasted the bill so far, accusing it of providing resources to potential terrorists.
"Now this crazed Mayor wants to forget all that and empower terrorist thugs looking to kill New Yorkers. This homeland security nightmare must be stopped, before it's too late," Mr. Ball raged in an especially fiery statement yesterday.
View the full press release unveiling the municipal ID endorsements below:
Advocates Express Support for Council's Newly Introduced Municipal ID Legislation

Leaders of Various Advocacy Groups Voice Support for Proposed City Identification Card Program

New York, NY– Leaders from several advocacy groups focused on issues including immigration, homelessness, and domestic violence have offered statements of support for the City Council's new legislation to establish a citywide identification card program for New Yorkers. Statements can be found below:

"The New York City Identity Cards are an important step toward equality and inclusion for all New Yorkers. The card will recognize and acknowledge so many New Yorkers who have already been living and working here for years and support their civic participation and contributions to the dynamism of our great city."
Ai-jen Poo, Director, National Domestic Workers Alliance

"A municipal ID is a great common-sense and cost efficient way to help many vulnerable New Yorkers access and utilize our city's human service and safety net programs. As an official government ID, it holds the promise of access to banking, cultural, educational and business services often denied or made difficult to get because of insufficient ID. This will be a tremendous resource for our clients and  many other New Yorkers.  Council Speaker Mark-Viverito and Council Members Menchaca and Dromm deserve a lot of credit for their legislation."
Bobby Watts, Executive Director, Care for the Homeless

"Too many undocumented New Yorkers are living in the shadows, unable to access the services and opportunities that they and their families need to thrive in our City. Providing municipal ID cards will improve the health, safety, and wellbeing of our most vulnerable residents, and we applaud Speaker Mark-Viverito, Council Members Dromm and Menchaca, and the entire City Council for supporting this policy."
Harvey Epstein, Director, Community Development Project at the Urban Justice Center

"We stand behind Speaker Melissa Mark-Viverito and the City Council on this important bill that would provide New York City residents with identification that is reflective of who they are and would provide access to basic and much-needed services and accommodations that many take for granted. In particular, the proposal to allow people to self-designate their gender would be particularly helpful to members of the LGBT community and would clear away many of the hurdles transgender New Yorkers face when it comes to legal documents that reflect their true identities," said Empire State Pride Agenda Executive Director Nathan M. Schaefer. "We applaud City Council Members Carlos Menchaca and Danny Dromm for leading this bill and look forward to seeing it signed into law this year."

"A photo ID is required in so many aspects of our daily lives, but for homeless New Yorkers it is often too difficult or impossible to obtain.  The Council's Municipal ID proposal would, for the first time, help our neighbors without a permanent home obtain an identification card that is often a key for turning their lives around. We thank the Council and Speaker Mark-Viverito for addressing this critical issue."
Mary Brosnahan, President and CEO, Coalition for the Homeless

"For too long, hard-working people who have deep ties to our neighborhoods and communities have not been able to prove their identity, let alone have access to basic and critical services. We are supportive of Speaker Mark-Viverito, Immigration Committee Chair Menchaca and Council Member Dromm's introduction of the first municipal identification card program."
Sonia Medrano, NY Communities for Change

"Community Health Action supports the work of Speaker Viverito and the City Council  to improve access to municipal services and reduce barriers to that access through a NYC identity card program."
Diane Arneth, RN,MPA, President/CEO, Community Health Action of Staten Island

"United Neighborhood Houses is pleased that under the leadership of Mayor de Blasio, Speaker Melissa Mark-Viverito, Immigration Committee Chair Carlos Menchaca and Education Chair Daniel Dromm, New York City is poised to implement the nation's largest municipal identification program. The ID cards offered through this initiative will help hundreds of thousands of New Yorkers better integrate into their communities and access critical City services. As a network of settlement houses and community centers that serve some of the City's most vulnerable residents, including foster care youth, older adults, immigrants lacking documentation, individuals experiencing homelessness, and adults re-entering their communities after incarceration, we understand the barriers these individuals face in trying to open a bank account, obtain employment, or rent an apartment. In addition, a lack of identification makes it difficult for these individuals to interact with City agencies and in particular, the police, hospital, and education systems.  We look forward to working with the administration and City Council to ensure the rollout of municipal IDs is a success and reaches those individuals most in need."
Nancy Wackstein, Executive Director, United Neighborhood Houses